A lawsuit over an unwanted Windows 10 upgrade just cost Microsoft $10,000
Microsoft recently paid a (very small) price for its Windows 10 upgrade tactics, and that was before they became increasingly aggressive.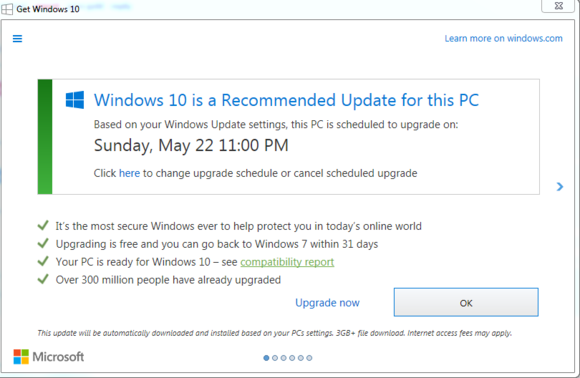 LumpyMayoBNI via Reddit Mark Hachman
To be fair, there were some good things about the new upgrade window. First, the company changed its update notification window to make it clearer what was happening. The company also added a very small line that allowed you to cancel the upgrade if you read the text closely enough.
Nevertheless, Microsoft's "x" behavior switcheroo, combined with its decision to force an update if you weren't able to disable the prompt in time, upset users and even prompted some to disable their automatic update settings. Disabling updates may prevent Windows 10 from landing on a PC, but it also prevents the timely installation of critical security updates putting those PCs at risk from malware.
Why this matters: In a bid to consolidate as many PCs as possible into one version of Windows, Microsoft's upgrade tactics have become increasingly user hostile—so much so that we've heard from many non-technical people who are frustrated by the essentially forced upgrades to Windows 10. The result for Microsoft is that it can claim a big adoption rate for its latest operating system. But Microsoft is paying a price for this adoption in loyalty and user trust that could come back to haunt the company.