Alienware 13 (2016) review: The first OLED gaming laptop has landed
Alienware's new 13-incher is a sight to behold.
Not long ago, we got our hands on a 2-in-1 notebook with an OLED screen—the Lenovo Thinkpad X1 Yoga—and were mesmerized by its display. It's one of those technologies that once you see it with your own eyes, you can never go back to the old way of things. You become that person at parties who says, "You're still using an LCD? I used to have one of those in 2015."
With the launch of Alienware's all-new 13-inch notebook, the Alienware 13, mobile gamers can now finally experience the revelation that comes with gazing upon an OLED panel. Though this technology has had some issues coming to market, it's been trickling out over the course of this year—and putting LCDs on notice. Once seen as crisp and high-res, LCD panels suddenly seem pixelated, washed out, and nowhere near as vibrant when compared to OLED. The Alienware 13 was my first time experiencing an OLED panel in person, and I assure you it's stunning—to put it lightly.
In addition to the snazzy display, which also supports touch gestures, this surprisingly small and dense notebook sports top-shelf hardware throughout. Its Nvidia GTX 1060 GPU makes it VR-capable (it's the first sub-14-inch notebook we've seen that is), and it also supports Alienware's Graphics Amplifier technology, if you decide you need more ponies under the hood in the future.
The display
The basic deal with OLED displays is that they reproduce much richer colors than LCDs, and also deep, dark black, which makes an LCD's black look gray by comparison. Overall sharpness and saturation are also way beyond what I've seen on LCDs over the years. OLED panels are more energy-efficient than LCDs, too, so it makes perfect sense for a notebook to be rocking one of these.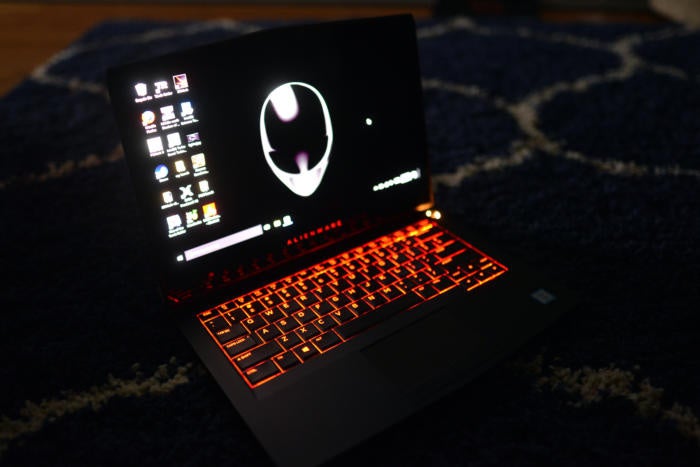 This Alienware laptop has an OLED panel that runs at 2560x1440, despite being just 13.3-inches in size. If you're not in to OLED due to price, its "velvety" look, or what have you, Alienware also offers the 13 with either a 1366x768 TN or a 1920x1080 IPS panel, both LCD.
I recommend the OLED option, though. Like that line in Ferris Bueller's Day Off says, "It is no choice. If you have the means, I highly recommend picking one up."
The chassis
Like the display, the Alienware 13's chassis offers something unique. Instead of being a bland, plastic slab, the Alienware 13 is angular and has the look of chiseled metal. And despite being still mostly plastic (the lid and underbelly are all aluminum, though), it feels incredibly rigid. The overall construction just seems dense, like there's not a single area inside the notebook that's hollow.