Alienware 13 (2016) review: The first OLED gaming laptop has landed
Alienware's new 13-incher is a sight to behold.
This feeling of density is also due to the Alienware 13's weight, which tilts the scales at almost 5.5 pounds. That's heavier than other 13-inch gaming laptops by about a pound or so. But the solidity is reassuring, and even things like the display hinge are tight and offer zero flex whatsoever.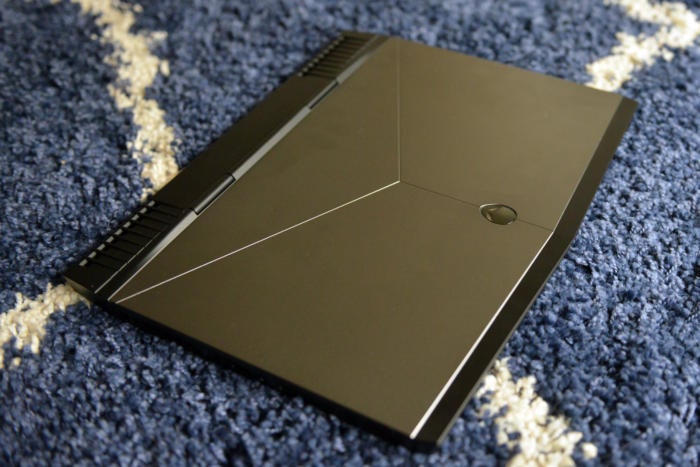 Speaking of the hinge, it's part of a redesigned chassis for this updated model that Alienware calls a "hinge forward" design. The screen sits about an inch forward from the rear of the chassis (instead of flush, like on the previous model), so the laptop looks like it has one of those extra-big batteries installed. Alienware says this design choice allows it to offer more rear ports, larger fans for increased cooling without additional noise, and an improved speaker system.
The company also says that the redesigned chassis is "up to 21 percent thinner" than the previous model. In my opinion, the new look is much more streamlined and a big improvement over the previous (and chunkier) model. Alienware also improved the finish on the plastic used for the palm rest to prevent fingerprints and smudges, and it works beautifully.
As far as ports go, this 13-inch laptop has almost as many ports as a bigger system. There are two USB 3.0 Type A ports, one Thunderbolt 3 port, a USB 3.0 Type-C port, gigabit ethernet, HDMI 2.0, Mini DisplayPort 1.2, audio out, a lock slot, and also jacks for a microphone and headphone. There's also an Alienware Graphics Amplifier port.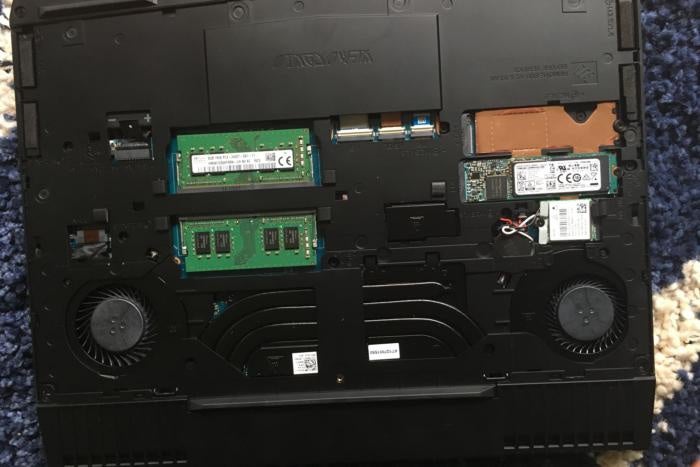 The laptop is also easily upgradeable, though the only components you can really access are the memory and the SSDs. In our test system, one of the M.2 modules was empty, and the RAM was in plain sight after removing the bottom lid.
The hardware
Of course, this laptop has more going for it than its display and chassis. Under the hood you'll find an Intel Core i7-6700HQ—a quad-core mobile part with HyperThreading, for eight logical cores. Its base frequency is 2.6GHz, but it can boost up to 3.5GHz when it needs to. On the GPU front, the 13 packs a GTX 1060 mobile part, which is designed for high frame rates at 1080p with settings cranked. This version of the 1060 comes with 6GB of memory in case you want to game at the panel's native res of 2560x1440.
Our review model also had 16GB of DDR4 RAM running at 2,400MHz, but you can configure one with as little as 8GB if you're on a budget. For storage, it ran a lone 512GB PCIe-NVME SSD from Toshiba, but you can also opt for dual 1TB PCIe SSDs: one for the OS and one for data. When we fired up AS SSD, the drive benchmarked about 1.4GB/s in sequential read speeds, and 900MB/s write speeds.
Previous Page 1 2 3 4 5 Next Page