Alienware 13 (2016) review: The first OLED gaming laptop has landed
Alienware's new 13-incher is a sight to behold.
Keyboard, trackpad, and speakers
The RGB lighting on the Alienware 13 deserves special mention, since it's got more features than you'd normally expect. Not only can you select the color of zones across the keys, but you can pick the color of the trackpad, the Alienware logo below the display, and the alien head on the lid of the laptop. All in all, it adds up to eight different lighting zones, which is double what is typically offered.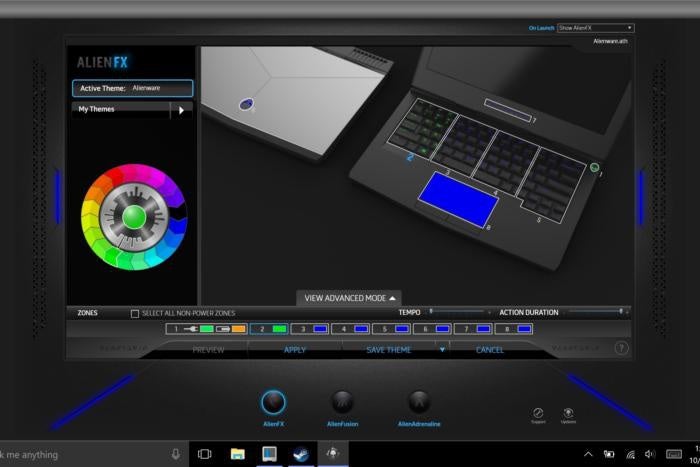 The TactX keyboard is superb. Though it's not mechanical, it has a similar travel and actuation design, with "steel-reinforced" keys (whatever that means). The bottom line is that the keys feel perfect in my opinion. I typed on this machine all day, and it was glorious.
The trackpad is a little skittish for my taste, but reducing its sensitivity helped a lot. Generally, I had no issues using it. It supports gestures, too, and switching from a MacBook Pro's trackpad to this Alienware's felt pretty natural.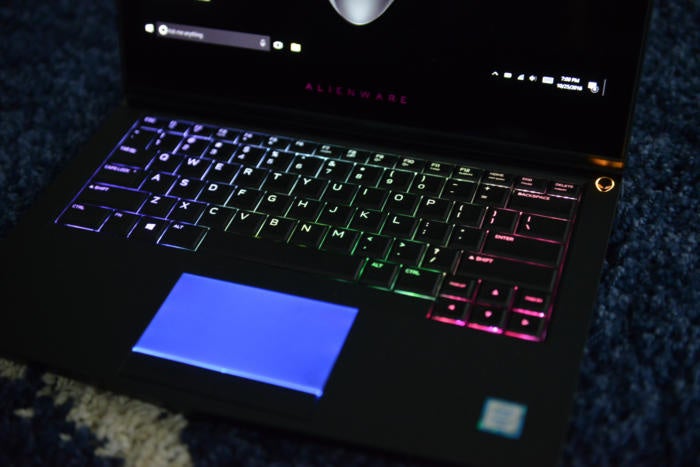 The speaker system is surprisingly good for a laptop this small. Alienware includes sound customization software for both gaming and multimedia, and it's quite effective, allowing you to customize the sound easily. I was impressed with the overall volume and the clarity among vocals, bass, and midtones. I'm not an audio snob, but I thought these speakers sounded better than the sound systems I've heard on much larger laptops.
Performance
Okay, let's get down to the nitty-gritty. We ran this baby Alien through our usual gauntlet of gaming and CPU tests to see how the overall system held up to torture. We don't have many 13-inch gaming laptops to compare it to, so the benchmark charts include results for bigger systems. Its closest peer here is probably the 15-inch MSI GS63VR Stealth, which has the same CPU and GPU.
3DMark Fire Strike Extreme
This synthetic test is usually quite accurate in helping sort GPUs by their overall ability. Since the GTX 1060 is a midrange GPU, we're using the Extreme test as opposed to the more gnarly Ultra test.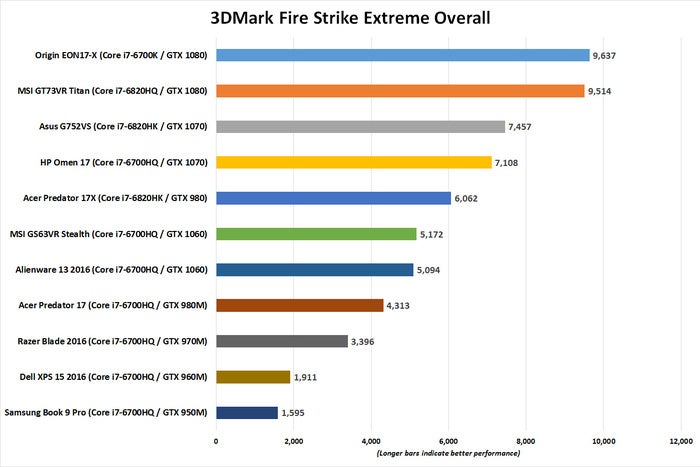 In general, laptops perform as you'd predict in this test, so if there are any irregularities with a laptop's hardware, they usual reveal themselves here. Because the benchmark focuses primarily on GPU performance, we expected the Alienware 13's GTX 1060 to match the performance of other laptops with the same GPU (most notably the MSI GS63VR). As you can see, the two notebooks were extremely close, with the MSI holding a minuscule 1.5 percent advantage, which is within the margin of error for this test.
Previous Page 1 2 3 4 5 Next Page