Alienware 13 (2016) review: The first OLED gaming laptop has landed
Alienware's new 13-incher is a sight to behold.
Tomb Raider
This game has aged, but it can still put some strain on a GPU. Because it's an older game, we run it using the Ultimate preset, which used to be reserved for flagship GPUs but can now be run with cards like the GTX 1060.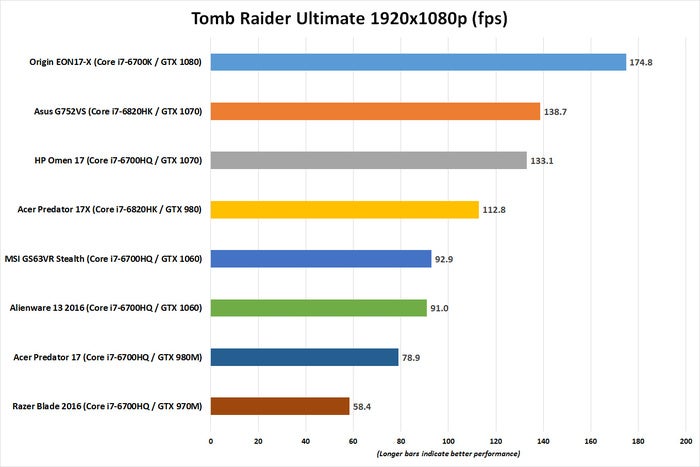 Despite the GTX 1060's midrange status, it's still quite powerful, and was able to run this game on Ultimate at 91 frames per second. That's an amazing boost for what you can expect out of these smaller gaming notebooks. Not surprisingly, both GTX 1060 laptops we've tested so far offer the same level of performance, with the MSI notebook running at 93fps.
Middle-earth: Shadow of Mordor
We also tested the Alienware 13 with this newer, more demanding title—its 4K texture pack can gobble up a GPU's onboard memory.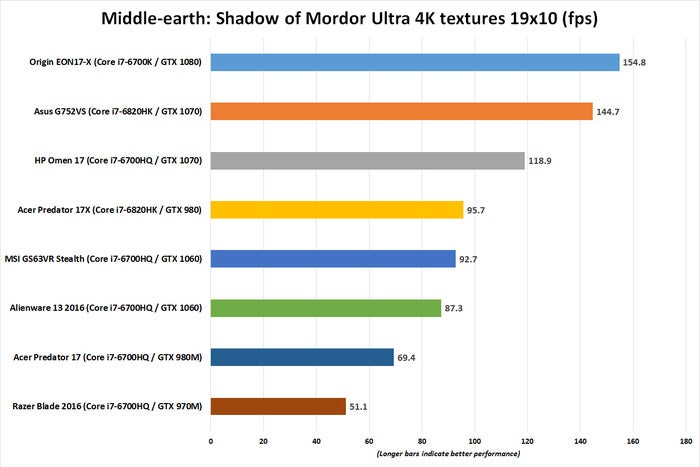 At 1080p, the Alienware 13 still ran this game at 87.3 frames per second. That's plenty awesome, but, again, a bit slower than the MSI GS63VR, which was 5 percent faster despite sporting the same hardware. Perhaps the MSI has better cooling and allowed the GPU to spin up a bit more.
Handbrake
This real-world encoding benchmark is a CPU test through and through, measuring how long it takes a system's processor to chew through a 30GB MKV file and spit out a smaller MP4 file using Handbrake's Android Tablet preset. This test scales well according to clock speeds and core counts—so the more, the better on all fronts. It's also a good test of a notebook's thermal design, as better cooling will allow the CPU to run at higher clock speeds and thus finish the test faster.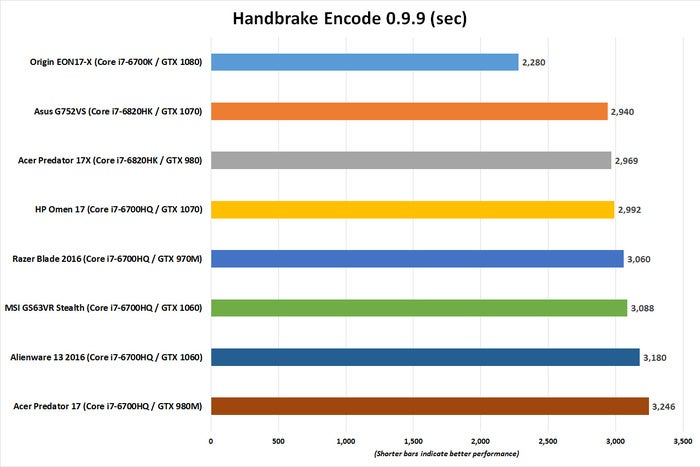 The Alienware 13 took 53 minutes to complete this test, again just a tick slower than the MSI GS63VR's 51.5 minutes. This kind of backs up our theory about the MSI having marginally better cooling, as we noted the Alienware 13 didn't run at its maximum clock speed of 3.5GHz during this test. It instead hummed along at about 3.1GHz for the duration.
Battery Life
Despite its small size, the Alienware 13 packs a hefty 76 watt-hour battery. For comparison, the Origin EON17-X, which is the size of a small ocean vessel, has a 79 watt-hour battery, and the MSI GS63VR offers just 65 watt hours. We don't normally pay too much attention to battery life in gaming laptop reviews, but a system this size is certainly designed to be taken on the road, so this information is as important as any about gaming performance.
Previous Page 1 2 3 4 5 Next Page