Amazon's pricey Kindle Oasis is worth the cost, if ...
A bad experience with a refurbished Kindle Voyage ereader led CIO.com reviewer James A. Martin to splurge on a brand new version of Amazon's most expensive Kindle, the Oasis. But the pricey device isn't for everyone.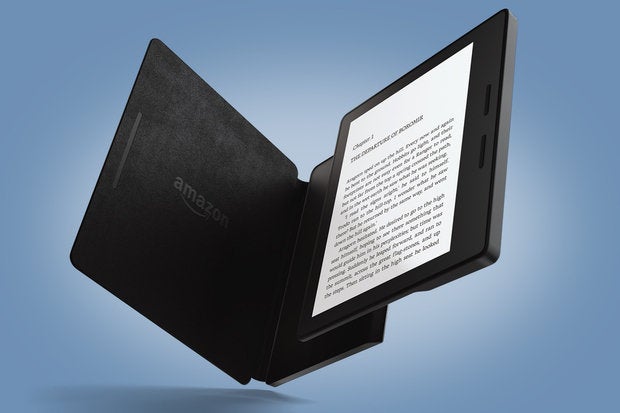 The Kindle Oasis has a book-like spine and battery-boosting leather cover.

Credit: Amazon / Rob Schultz

Kindle Voyage was Amazon's thinnest, lightest ereader when the company released it in October 2014. At the time, I owned a first-generation Kindle Paperwhite and was perfectly satisfied with it.

However, when a "thinner" and "lighter" device is dangled in front of me, I quickly become destabilized. I was able to resist the temptation to buy a Voyage, which, at a minimum price of $200, seemed too expensive.

Then, Amazon in April announced Kindle Oasis, which is even thinner and lighter than Voyage. It's also even more expensive, with a starting price of $290, though the cost includes a battery-powered Amazon cover.

So I made what then seemed like a reasonable compromise: I bought a refurbished Kindle Voyage for $152 on Amazon.com. The decision proved to be a mistake ... but it also ultimately worked out.
A trouble-free first month with refurbished Voyage, then...
For the first 30 days, I was a satisfied customer. Voyage was noticeably lighter (6.3 ounces for the Wi-Fi-only version) than my first-generation Paperwhite (7.5 ounces). That's not a huge difference, but when you hold a device for an extended period, you notice.
After the 30-day return period ended, however, my refurbished Voyage started to misbehave. It frequently froze and had to be restarted. While I read the nonfiction bookGrit (which I highly recommend), the Voyage at one point lost all my highlighted notes. And on several occasions, it lost my place in the book.
The problems grew more frequent, so I called Amazon customer support. I explained that I knew I was beyond the return period, but I wanted a refund. I did not want a replacement refurbished Voyage or to have mine fixed. The agent put me on hold to speak with his supervisor, and after a few minutes he said he could offer me an 80 percent refund on the $152 I paid. That seemed fair enough, so I sent the bum Voyage back to Amazon.
It's worth noting that I've had very mixed results with refurbished tech products. Along with my ill-fated Voyage, a refurbished Dell monitor I purchased stopped working after about a year, and it would have been more expensive to repair than replace. On the other hand, I had no trouble at all with the refurbished iPad Air 2 and MacBook Air I bought from Apple.
Moving from Kindle Voyage to Oasis
Complications aside, I was hooked on the concept of a thinner, lighter Kindle. Even though my Apple iPad mini makes a great ereader, it can't compare to Kindle when reading outdoors. Kindle also helps me stay focused when I read ebooks.