Apple gives itself an extra 6 days to sell 10 million iPhones, hinting at slower pre-orders
But the iPhone 6S Plus is already backordered 3-4 weeks.

Apple's new iPhone 6s and iPhone 6s Plus. Credit: Apple
Apple today said that iPhone sales, bolstered by the new 6S and 6S Plus models, are "on pace" to break last year's record of 10 million between pre-sales opening and the close of the first weekend of retail.
But the company's claim and the calendar hinted that pre-sales of the revamped smartphones were down from last year's debuts.
"Customer response to iPhone 6s and iPhone 6s Plus has been extremely positive and preorders this weekend were very strong around the world," an Apple spokeswoman said in a statement. "We are on pace to beat last year's 10 million unit first-weekend record when the new iPhones go on sale September 25."
The iPhone 6S and 6S Plus went on sale Saturday just after midnight PT, with the usual online store problems reported by some. Those who used the mobile app generally found it easier to grab a new smartphone.
As of noon Monday PT, Apple's U.S. e-store showed only two tints available -- Silver and Space Gray -- for the 6S or 6S Plus, while the other color choices, including the new Rose Gold, were absent.
According to the iPhone 6S Pre-Order Tracker, which scrapes Apple's online outlet to determine which models, storage configurations and carrier options are backordered, the 5.5-in. iPhone 6S Plus currently has a three-to-four-week delay between ordering and shipping in the U.S., Australia, China, Japan and the U.K.
"The online demand for iPhone 6S Plus has been exceptionally strong and exceeded our own forecasts for the preorder period," Apple's spokeswoman said.
The smaller 4.7-in. iPhone 6S wasn't in the same boat: Except for China and Japan, the handset was still available today for delivery on retail's opening day, Sept. 25, in most colors and configurations.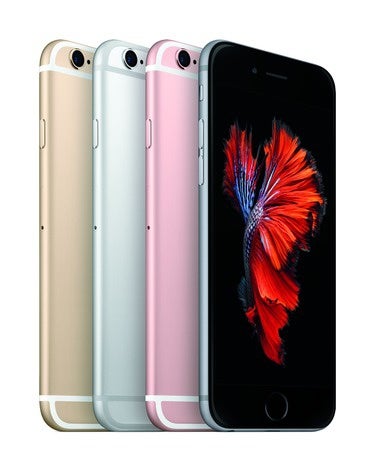 The iPhone 6S, including the new "rose gold" model. Credit: Apple
The situation was reminiscent of 2014, when the iPhone 6 Plus, Apple's inaugural large-screen phone, sold out and went to delayed shipping almost as soon as pre-orders opened at midnight on Sept. 12.
However, Apple's statement did not repeat last year's claim of four million iPhones sold over the three-day weekend of pre-orders, hinting that early sales were lower this time. Also notable was the tentative assertion that sales were on pace -- a way to leave some wiggle room -- to best 2014's 10 million record.
That pace, of course, could dramatically decelerate and Apple would still be in the clear.