Apple puts toe in touch waters with MacBook Pro remake
Raises prices as much as 39% for laptops that sport customizable, contextual 'Touch Bar'
Apple today reworked its notebook line, boosting the touch-ability of the MacBook Pro line, not by letting users smudge the screen but with an adaptable bar above the top row of keys.
The expected replacement for the row of function keys got the name "Touch Bar," without the "Magic" moniker some thought would lead of the label.
But with the new hardware came new, higher prices: Apple raised the entry-level prices of the new 13- and 15-in MacBook Pros with the Touch Bar by $500 and $400, respectively, from their bar-less predecessors. The price hikes represented increases of 39% (13-in.) and 20% (15-in.).
"This is very much a redesign, not a refresh," said Ross Rubin, principal analyst at Reticule Research. Traditionally, Apple has kept prices stable, even lowered them, when it replaces a component or two with a faster or more capable successor. Rubin's argument was that the new models went far beyond that modest swap.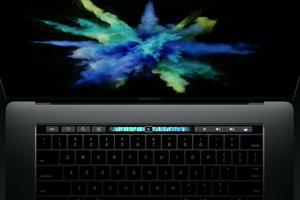 Carolina Milanesi, an analyst with Creative Strategies, had similar thoughts. "Apple is repositioning the product, reinventing the [MacBook Pro]," she contended, acknowledging that the hikes were unusual for Apple. "Normally they keep the price the same, but it's not just a refresh. They're trying to find a different place in the market for the MacBook Pro."
Today was the first live event since March 2015 where Apple focused on the Mac, and it followed months of rationalizing by analysts that the long stretch since the last hardware refresh had been the root cause of a four-quarter sales slump.
CEO Tim Cook promised to make up for the omission. "For 25 years we've been defining and redefining what a notebook is," Cook said, citing the October 1991 debut of Apple's first PowerBook, a clunky, brick-thick portable. "Today, we're going to do it again."
Cook ceded the stage to others, including head of marketing Philip Schiller and Craig Federighi, the top software engineering executive: The two unveiled the redesigned 13- and 15-in. MacBook Pro laptops, then demonstrated the models' most notable addition, the Touch Bar.
The laptops are slimmer, lighter versions of their predecessors, each model dropping about half a pound and losing between 14% and 17% of its thickness. "It is the gold standard in notebook computers," Schiller asserted. "This is the thinnest and lightest MacBook Pro we have ever made."
Both the 13- and 15-in. MacBook Pros sport a trackpad doubled the previous size, and a keyboard whose underlying technology was brought over from the 2015 MacBook.
But the star of the new laptops was clearly the Touch Bar, a mutable strip above the top row of keys, where traditional notebooks feature the F1 through F12 function keys. The strip responds to the Apple-esque multi-touch gestures, and adapts to the active application. With Safari, for example, the Touch Bar shows icons representing favorite sites.