Apple TV drops optical audio-out: How to pump up the volume again
The new Apple TV lacks the digital/analog audio output port of the previous models. But you have options!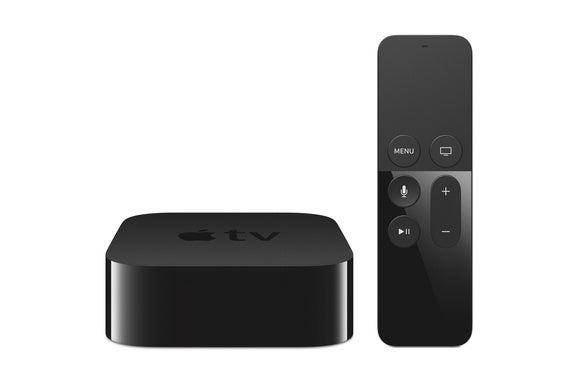 Credit: Apple
The TV part of the Apple TV name properly evokes that it's built as a device to play video. It also has a screen-based interface for navigation. The new Apple TV goes a step further by adding support for richly rendered, smooth-motion games, and opening it up with an App Store. But the Apple TV, past and future, is full of music and spoken words, too—many people also stream audio from OS X and iOS using the Apple TV as an AirPlay target.
Which is why some owners of current models and potential new buyers were dismayed that Apple dropped the optical-audio port in the content box's new design. That port could output plain old analog stereo signals, as well as encode richer digital audio—including 5.1 and 7.1 surround sound—using the Toslink optical interface. (AirPlay and older Apple TV models support 5.1 surround sound, while the new Apple TV can output both 5.1 and 7.1 but only via HDMI. It's unclear whether an AirPlay revision will add 7.1 with the new Apple TV.)
If you're using the audio port now to stream sound and want to do so in the future with a new Apple TV, what choices do you have? It turns out, quite a few.
Keep your old Apple TV, buy a used one, or buy the currently available models ($69). Old Apple TVs, so long as they keep functioning, can still shoot sound out their audio jack. You can omit connecting it to video if you plan to use it only for AirPlay. If you want to select audio apps (like iTunes Radio or Podcasts) from the Apple TV's interface, check if your HDTV or receiver has multiple HDMI inputs. Most that have one have more (although there's never enough). You can switch to it from a remote control to get sound running, and then use a dedicated remote control or the iOS app to pause and resume.
Get an AirPort Express. The little base station that could, the AirPort Express, is a tiny powerhouse. It has simultaneous dual-band Wi-Fi, plus a LAN ethernet port to attach a switch—plus the same analog/digital audio port found in all but the newest Apple TVs, just as a 3.5-inch jack instead of Toslink. It works as an AirPlay target, and can be configured via AirPort Utility. The list price is $99, although Amazon has new units for $89 right now, and Apple will sell you a refurbished one for $65.
The Wirecutter's Dan Frakes owns a whopping seven AirPort Expresses, purchased across several years, six of which work solely as audio controllers for speakers in different parts of his home and office.