Apple TV FAQ: Apple's new streaming video and gaming machine explained
The new Apple TV looks almost indistinguishable from the previous model, but couldn't be more different under the hood. Here's what you need to know about it.
Games are the big push with this new release, with a fast processor, and a remote that doubles as a touch-based and motion-based controller. iOS games can't simply be converted to tvOS, because the interaction will be so different.
Photo-display or slideshow-presentation, podcast, and music-streaming audio service apps should also be popular. Developers outside of advance partners were just given access the day of the event, and the release is in October, so that will limit what's immediately available, too.
Will Apple allow an Amazon app, like Amazon Instant Video? It's a fair question. Amazon has an iOS app for video and multiple apps for shopping. With previous Apple TV models, providers had to work directly with Apple in an unusual development environment. In this new approach, everything Apple is saying makes it sound like it will be bound by rules very similar, if not identical, to the App Store. That would make it odd and exclusionary for Apple to prevent Amazon from making a tvOS app.
Can I use third-party controllers? Yes! The new Apple TV supports any controllers that are already in the MFi program that Apple uses to certify devices—that's Made For iWhatever. This includes a number of console-style controllers. Game developers have to build in support for these controllers in their games, too. Apple TV will probably spawn new devices, and game makers could design premium or specialized controllers to go with their games as well.
How many remote-control/game controllers does it support? Up to four.
How much are additional Siri Remote controls? Additional Siri Remotes are $79, plus $13 for a little strap you can wear while using it as a controller so you don't fling it out of your hand and break a TV, window, or someone's head.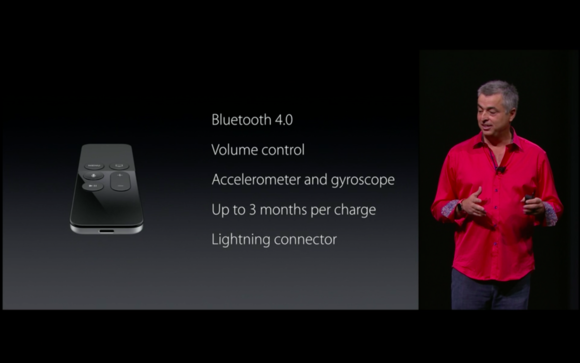 The Siri Remote is Bluetooth enabled.
Can the Apple Watch be used as a controller or for other purposes? Apple didn't mention the Watch, but because it can work with the existing Apple TV with the Remote app, it's very likely the Watch will be able to be part of gaming and controlling the new model.
Is it a Wi-Fi base station? No, you'll still need either an ethernet switch or a Wi-Fi base station to connect it to the local network and the Internet. It does include the newest 802.11ac flavor of Wi-Fi networking.
Will Siri's search work across all apps and even other places on the Internet? Apple's announcement only says it will work across "popular services," and includes iTunes and Netflix in that. It's possible like with Spotlight in iOS 9, it will be able to draw information from other apps installed or even ones that aren't.