Apple Watch Series 2 hands-on: Ceramic is stunning, but Hermès overpriced
Who would pay hundreds just to get an exclusive Hermès watch face? People who can't do math.
It's really hard to tell the difference between the new Apple Watch Series 2 models and the originals—the aluminum and steel versions anyway—until you place them side by side. Turns out, the Series 2 models are ever so slightly thicker than their predecessors. Just a hair, not enough to even complain about, really, and it's certainly not a deal-breaker. But from Apple, a company with a track record of sacrificing ports and redesigning keyboards in order to make its products thinner and thinner and thinner, the Apple Watch's extra bulk is a sign that the company is still adding hardware features to find the best mix. In this case, GPS.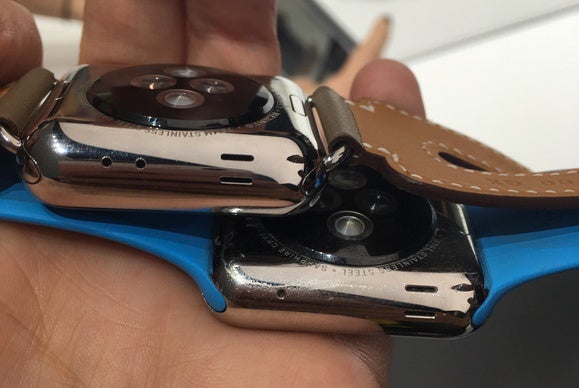 The stainless steel Apple Watch Series 2 (top) is ever so slightly thicker than the original (bottom), and has a second microphone opening, to reduce pressure when the watch is underwater. (Click to enlarge.)
What remains to be seen—and isn't a one-size-fits-all answer anyhow—is whether GPS will be worth the extra cost for the Series 2. After all, GPS and 50m waterproofing are the only differences between the Series 2 watches and the Series 1, which is still on sale. Aluminum Series 1 models, formerly called Apple Watch Sport, are $269 for 38mm and $299 for 42mm, and those Series 1 watches even have the same S2 chips that Apple put in the aluminum Series 2 models, which are $100 more. (Series 2 watches also come in stainless steel starting at $549, but Apple isn't selling steel Series 1.) Since my hands-on time after Apple's September 7 event didn't include a chance to swim laps or go for a run, the Series 2's exclusive features didn't have the opportunity to impress me—yet.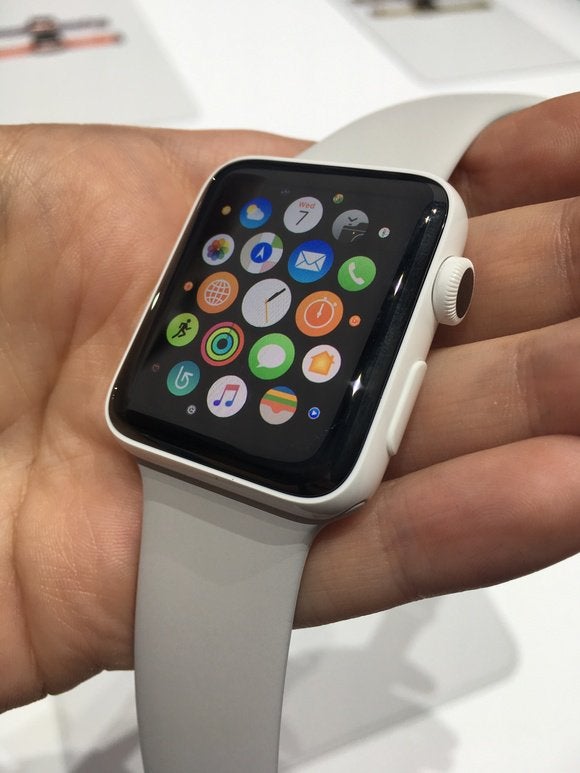 The ceramic Apple Watch Edition caught me by surprise with its glossy white shine.
Still, one Series 2 watch called out to me from the crowded table of demo units: the ceramic model. Shiny and pristinely white, it looks like it was carved from solid block of unicorn horn. I'm a little surprised it only comes in white (colors next time, maybe?), but it's a pleasant throwback to when Apple offered a whole range of glossy white products, from iPods to MacBooks.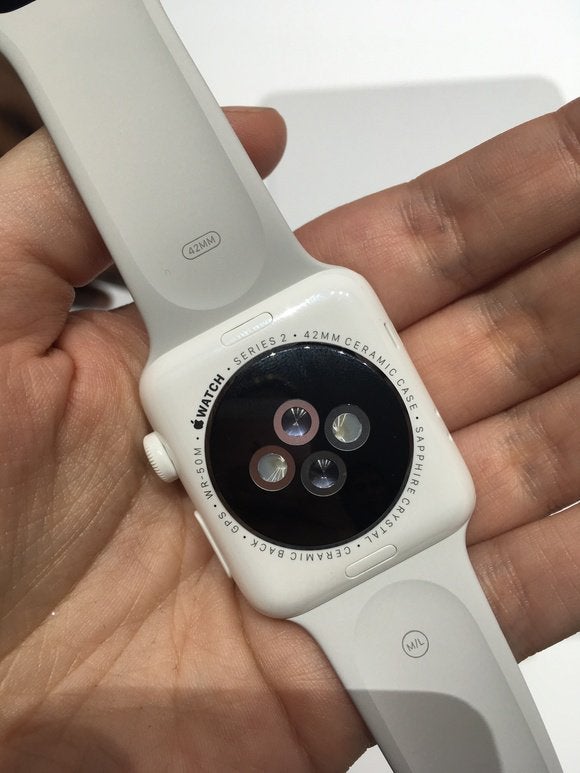 Even the back of the ceramic watch is pretty.
The ceramic Apple Watch Edition, which Apple says is four times harder than stainless steel, was the biggest surprise in Apple's keynote, both for what it is and what it isn't: gold. While it starts at a jaw-dropping $1249 for the 38mm version, the ceramic Apple Watch Edition replaces the solid-gold Apple Watch Edition models that cost $10,000 to $17,000 when they launched in the spring of 2015. Funnily enough, that gorgeous ceramic watch is only sold with an off-white (sorry, "Cloud") Sport Band, a $49 strap that matches the look perfectly but didn't seem luxe enough to me considering the four-figure package price.