Apple's new MacBook Pro delivers innovation -- at a price
The line-up unveiled on Thursday shows enormous potential, but Apple fell short of meeting its customers' needs
The 15-in. model weighs four pounds and is thinner than the previous design -- which was already pretty thin. It features a multitouch glass trackpad twice the size of previous models; larger keys on a redesigned backlit keyboard; a new, brighter Retina display with support for a wider color gamut and deeper contrast; Touch ID; and redesigned internals with increased throughput, and four Thunderbolt 3 ports. The best and most stand-out feature, of course, is the Touch Bar, a slim touch panel that acts as a replacement for the Function key row on the keyboard.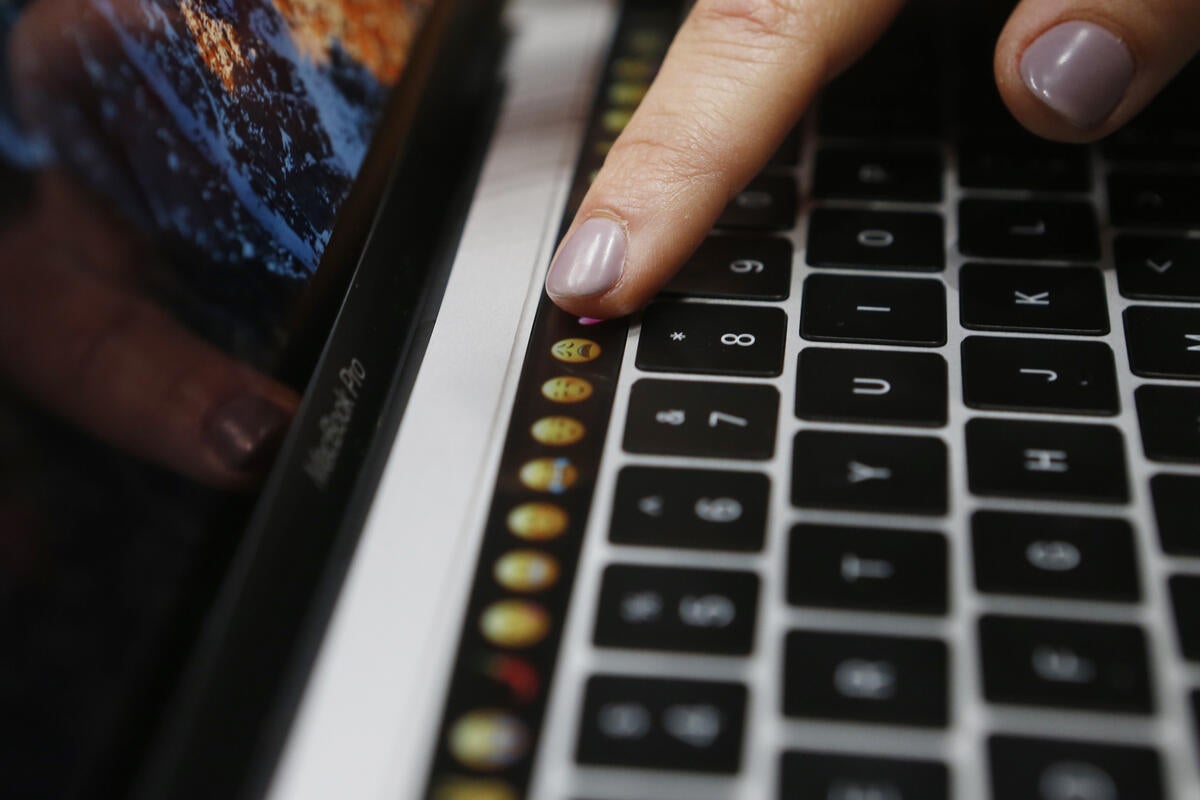 A guest points to a new MacBook Pro during an Apple media event in Cupertino, Calif., on Oct. 27, 2016.
The Touch Bar is contextually sensitive; its contents are based on whatever app you're in and the actions being performed. For instance, Photoshop will display buttons to activate popular actions and filter sliders; iPhone and FaceTime calls will display options to decline or accept calls, along with other actions; and Final Cut Pro will display the timeline when your edit window is full screen. This is oversimplifying actions you can take, and doesn't account for how third-party developers will make use of the feature. Overall, the Touch Bar is very clever.
All of this adds up to a welcome and powerful redesign with some great forward-thinking features. So where's the problem?
What's not right
The MacBook Pro has been designed with professionals in mind, according to Apple. The general specs line up with that, given that even the base Touch Bar-enabled 15-in. MacBook Pro has a quad-core i7 processor, storage that operates at 3.1GBps read and 2.2GBps write speeds, four Thunderbolt 3 ports each capable of 40Gbps, and a discreet graphics card. (Remember: macOS Sierra and apps use the graphics card not just for graphics but for overall processing in concert with the quad-core CPU.)
While an argument can be made that removing all ports except Thunderbolt 3 is inconvenient -- new dongles will be needed for every peripheral connected to your computer -- you can also argue that the benefits of Thunderbolt 3 outweigh that negative. A single port that does everything from video (up to two 5K monitors or four 4K monitors!) to data to power will be great if support catches on.
What's not defensible about these Pro models is the storage capacity offered and the limited amount of RAM.
The 15-in. MacBook Pros have 16GB of memory, with no option to upgrade to more. Apparently, there are technical reasons for this. According to tech writer Dan Frakes who was at the announcement and spoke to Apple officials, the LPDDR3 memory used by Apple is limited to 16GB per chip. Apple used this particular chip to balance performance and energy use. (Take a look at the comments in that Macrumors.com piece for more on how users feel.)
Previous Page 1 2 3 4 Next Page