Apple's new MacBook Pro delivers innovation -- at a price
The line-up unveiled on Thursday shows enormous potential, but Apple fell short of meeting its customers' needs
Apple marketing chief Phil Schiller, in an email response to MacRumors on the subject, explained further: "To put more than 16GB of fast RAM into a notebook design at this time would require a memory system that consumes much more power and wouldn't be efficient enough for a notebook."
Form, not function
That rationale strikes me as an odd case of form over function. If the memory controller needs additional power with 32GB of RAM -- and battery life would otherwise take a hit -- Apple could have modified the new case to make room for a larger battery. Or it could simply warn customers who want to upgrade about the potential trade-offs. Most users, myself included, would prefer more RAM to the new ultra-slim design.
The problem is that while 16GB is fine for now, it may not be in two or three years, when many people could still be paying off this computer. 16GB was an enormous amount...in 2012. Today, it's average; tomorrow, who knows? Overshooting what is needed now extends the life of a computer, but anything beyond 16GB isn't even possible.
The deepest cut, though, is price. The 15-in. MacBook Pro starts at $2399. That's a full $400 over the entry-level price of the previous model. The real kicker: It comes with just 256GB of storage.
Let that sink in: RAM is maxed at 16GB, all of the traditional ports have been removed (including a super useful memory card reader), you're going to have to buy new peripherals or adapters -- and internal storage starts at 256GB. (For context: 256GB is a storage option on the iPhone.)
This on a rig aimed at photo and video professionals.
Yes, you can always custom configure options or move to the next tier. The next model up the food chain has acceptable storage with 512GB. But it also costs an additional $400. Am I the only one thinking that in 2016, a computer costing over 2,000 should have 512GB of storage on the entry model?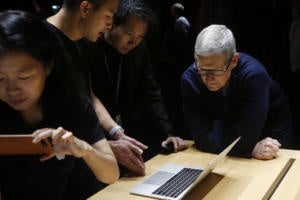 Apple CEO Tim Cook (R) views the new MacBook Pro in the demo room after an Apple media event in Cupertino, Calif., on Oct. 27, 2016.
During a post-announcement interview, Schiller told CNet: Affordability is "absolutely something we care about. But we don't design for price, we design for the experience and the quality people expect from Mac. Sometimes that means we end up at the higher end of the range, but not on purpose, just because that's what it costs."
With the entry model as-is, Apple pretty much guarantees that any professional on a budget will have to bring at least another hard drive just to get any work done. The insulting part is that Apple's products have profit margins of around 40%; it would be nice if Apple ate into that just a little bit to get a good customer-satisfaction-to-profit-margin ratio. 256GB of storage isn't enough.
Previous Page 1 2 3 4 Next Page