Are retailers (and consumers) ready for EMV?
As chip-and-pin credit cards make their way into consumer's wallets, and stores retool their card readers to accept them, the industry has been quietly but steadily preparing for the official fall deadline. But that doesn't mean you won't see longer lines at the supermarket.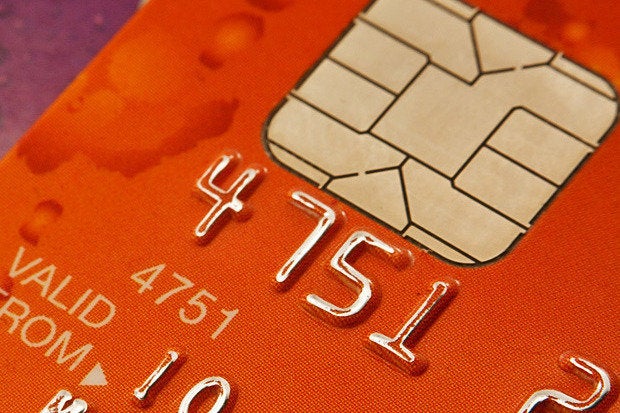 A credit card with Europay MasterCard Visa (EMV) chip and PIN security.
A few weeks ago, I got two fat envelopes in the mail. Each one held a new credit card inside along with instructions on how to use that card. Then, when I stopped at my local grocery store, at Nordstrom, even the corner liquor store, each had a new reader with a slot at the bottom into which I could slide those new cards.
The switchover to EMV which stands for EuroPay, Mastercard, Visa in the U.S. is coming. The payment system already widely adopted in the rest of the world (hence EuroPay in the name) is set to become the norm after October 1, 2015.
Liability shift to less secure
The transition to EMV is also accompanied by a liability shift, wherein liability for fraudulent, card-present transactions will lie with whoever is less secure in processing those payments. If the card is chip-enabled but the retailer can't accept chip transactions, for example, the retailer would be liable. This edict came down from major card issuers, which pushed retailers to accept the change or be on the hook for those charges.
Even though the rollover deadline is months away, some retailers have already changed how they accept payments so that they're ready ahead of the deadline and ready to take those chip cards that some consumers already have in hand.
Retailers retool
"In 2012, when the [payment] networks announced this directive, and we were going to our retail clients and asking them 'do you need help understanding this?' at the time it wasn't really on the top of their minds," says Michele Orndorf, financial and retail industry strategist at Kurt Salmon. "Moving over and upgrading Point of Sale is clearly an investment that is going to hit the bottom line. It's not something they were going to do two years in advance if they didn't have to."
That attitude started to change in 2013, and now the trickle of switchovers has been a flood. "I would say your top retailers the Targets, the Macys the Bloomingdales they've already done it. They're ahead of the game," she says.
As that deadline looms closer, middle-tier retailers are starting to catch up. "They're realizing 'wow we have to do this,' and that's who we're getting the questions from now," Orndorf says.
Cards are coming or already here
Just as retailers are retooling how they'll accept payments, consumers are getting new chip-enabled cards too.
"Things are going well and things are very busy," says Phillipe Benitez, vice president of business development for EMV and mobile payments for Gemalto, which has issued 4 billion EMV cards globally. "You've been receiving EMV cards in the mail, even without asking for them. That's the case for all the major U.S. issuers."