Astell&Kern AK Jr review: This pocket-sized high-res digital audio player delivers great sound, but slow performance
Small, light, and priced right (but it's also dog slow).
The Astell&Kern AK Jr ($499, available at Amazon) is among the smallest, lightest, and least-expensive high-resolution digital audio players on the market. If it wasn't plagued by a slow user interface, which Astell&Kern has promised to address via a forthcoming firmware update, it would be an all around first-rate device.
Form and function hits and misses
What you're ultimately getting with a portable high-resolution digital audio player—compared to, say, your smartphone, which can also play music—is much higher-quality audio circuitry. With the AK Jr, that starts with a Wolfson WM8740 DAC that's capable of decoding all the most popular music file formats (AIFF, ALAC, DSD, FLAC, WAV) encoded with up to 24 bits of resolution and at sampling rates as high as 192kHz. Audio purists will want to know that the AK Jr converts DSD files to PCM prior to playback.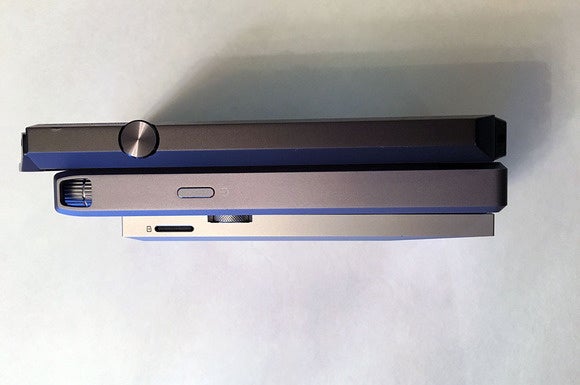 The Astell&Kern AK Jr (bottom) is the smallest, thinnest, and lightest player in this roundup. Credit: Theo Nicolakis
The AK Jr's aluminum casing feels solid and luxurious in your hand, but it's not perfect. The bottom corners are very sharp, to the point of being uncomfortable to hold. I let several friends and family members try the AK Jr, and they all complained about the corners. You might grow accustomed to this over several weeks of use, but the only surefire way to solve the problem is to buy one of the $49 AK Jr cases that Astell&Kern sells.
In addition to a generous 64GB of onboard storage, the AK Jr has a single microSD slot that can support cards with up to 200GB of capacity. Potential buyers should note, however, that not all 200GB cards are guaranteed to work with the AK Jr. The Questyle and Pioneer players we're comparing in this roundup have only 32GB of storage, but they also have two microSD card slots, so their storage potential is much higher.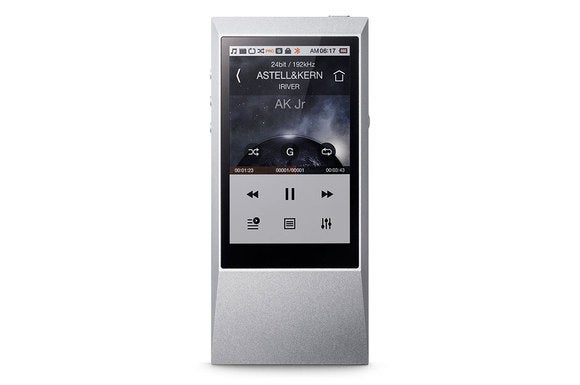 The Astell&Kern AK Jr features a full-color touchscreen display inside a solid aluminum body. Credit: Astell&Kern
While both the AK Jr's features and user interface are spartan, they are functional and intuitive. The AK Jr sits comfortably in the middle of the players in this roundup. It doesn't take the everything-plus-the-kitchen-sink approach of the Pioneer, nor does it have the absolute minimalist approach of the Questyle.
Overall, I loved using the Jr. I tip my hat to the folks at Astell&Kern because seemingly every contextual icon or option I needed was always available where and when I needed it. Perhaps more importantly, I never felt as though I was being presented with unnecessary options.