Astell&Kern AK Jr review: This pocket-sized high-res digital audio player delivers great sound, but slow performance
Small, light, and priced right (but it's also dog slow).

The AK Jr comes beautifully packaged and complete with a protective film for its screen and a micro-USB cable for charging its battery. Credit: Astell&Kern
The AK Jr features a hybrid of physical and virtual buttons. The AK Jr's volume-control wheel protrudes from the right side of the player, which makes adjusting the volume easy using the thumb of your right hand or the index finger of your left. Adjusting the volume brings up a large donut circle that bears a strong resemblance to an LP. Increasing the volume moves a circular volume line closer to the circle's outer edge, while the lowering the volume moves it closer to the center of the circle. Volume is also displayed in large, easy-to-read numbers so you're always sure about your level.
The AK Jr features Bluetooth v4.0, but not the aptX codec that promises CD-quality wireless audio streaming. A representative from Astell&Kern told me that the company might include aptX support in a future firmware release. I tested the AK Jr's Bluetooth wireless functionality with my Bowers & Wilkins P5 Wireless headphones and found pairing to be effortless.
There is no Wi-Fi connectivity. You'll need to step up to one of Astell&Kern's more-expensive models to get that feature. The absence of Wi-Fi also means you're cut off from any of the music-streaming services that don't support offline playback.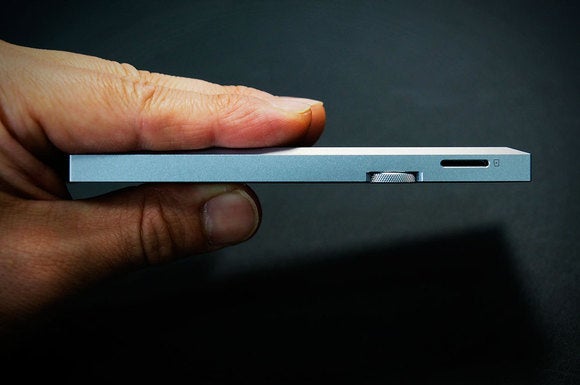 The Astell&Kern Jr is light and thin. Credit: Astell&Kern
Sleek but sluggish
You interact with the AK Jr via its 3.1-inch LCD touchscreen, which is noticeably low-res compared to current smartphones or even Astell&Kern's other models. But this didn't bother me as much as the AK Jr's sluggish response. This can be aggravating when you're scrolling through a large collection of your songs, albums, or artists, but you'll also notice it when you perform such mundane operations as adjusting the volume. This isn't the case with Astell&Kern's higher-end models; the company sent me the next model up, the AK 100 II, for comparison and its performance was always smooth.
You can use the virtual scroll bar on the right side of the screen for faster scrolling through large collections of songs, but even then the interface can be unpleasantly jerky. This is the AK Jr's Achilles heel, and Astell&Kern knows it: A spokesperson told me an upcoming firmware update should help in this regard.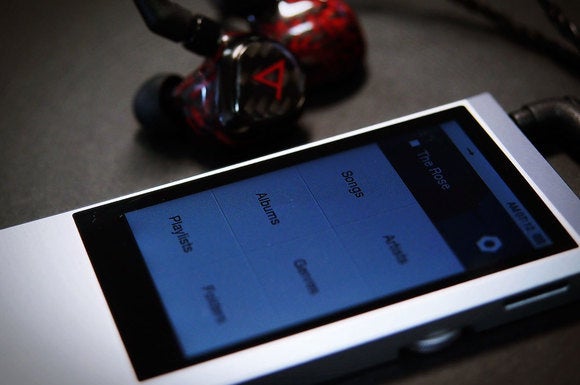 The AK Jr's home screen and overall user interface is intuitive and cleanly laid out. Credit: Astell&Kern
The AK Jr features the same user interface you'll find on its more-expensive siblings: Icons are text are cleanly laid out. The interface is so well done that I was able to figure out pretty much every major feature without ever needing the owner's manual. I would never mistake the AK Jr for an Apple product, but its designers did a good job.
Previous Page 1 2 3 4 Next Page