Battle of the connected LED light bulbs: Cree Connected Soft White vs. GE Link
LED light bulbs are far more energy efficient than incandescent models, Cree and GE now make them more convenient, too. But which is the better bulb?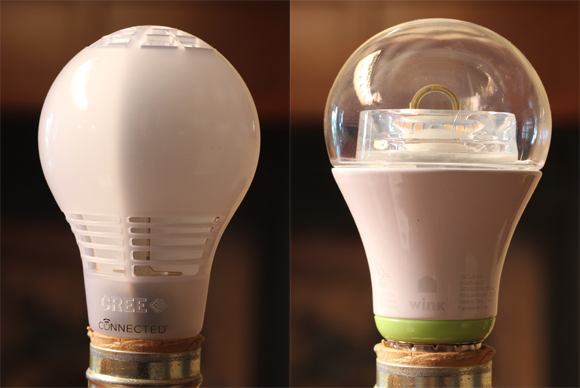 If you're considering switching from incandescent to LED light bulbs to save energy, you should consider switching to a so-called "connected" light bulb that you can control and schedule using an app on your smartphone. These bulbs are considerably more expensive than the incandescent variety that are being phased out, but these new models from Cree and GE don't cost much more than regular LED bulbs that must be controlled with a wall switch.
To enjoy the connectivity feature, you'll also need to invest in a ZigBee hub. Cree recommends using either the Wink hub or the Wink Relay (a touchscreen model that mounts on the wall), while GE recommends using its own Link hub (a small plug-in module) or either of the Wink hubs. But in both cases, any hub that supports the ZigBee connectivity protocol should work fine.
I tested both bulbs with the $50 Wink hub and the free Wink Android smartphone app (there's a version for the iPhone as well). I'll publish a separate review of the Wink hub (and eventually the Wink Relay) at a later date.
I compared the Cree Connected LED light bulb to GE's Link, using a GE Reveal halogen incandescent bulb as my baseline. All three bulbs have a medium-size screw base (type E26), and I used a common table lamp to test each of the three bulbs.
GE markets the Reveal bulb as an energy-efficient model in that it produces enough light--790 lumens--to be equivalent to a conventional 60-watt bulb. GE rates the Reveal's color temperature to be 2950K, which means it's a very "warm" light. The Cree Connected bulb is rated to produce 815 lumens of brightness while the GE Link is rated at 800 lumens. Both manufacturers claim a slightly cooler color temperature of 2700K for their bulbs.
I purchased a four-pack of the Reveal bulbs at Home Depot several months ago for $3.67--that's about 92 cents per bulb. The Cree and GE LED bulbs, by contrast, cost $14.97 each. But using these bulbs should cost less money to operate over the long haul, because LED bulbs are not only much more efficient, they also last a lot longer than incandescent bulbs. Beyond the acquisition and operation costs, changing a light bulb to gain smart lighting is a whole lot cheaper and easier than replacing a wall switch or a receptacle with a connected model. Replacing a switch can cost anywhere from $40 to $80 or more, assuming you do the work (as opposed to hiring an electrician).
I screwed the Reveal bulb into my lamp and plugged the lamp into a watt meter and confirmed GE's claim that the bulb consumed 53 watts of electrical power. When I tested the Cree, the watt meter indicated that it drew just 10 watts of power (1.5 watts less than Cree takes credit for). GE says its Link bulb draws 12 watts of power, but my watt meter indicated that bulb's drew the same amount of power as Cree's: 10 watts. The watt meter reported that the Wink hub drew just 1 watt of power. According to GE, the Reveal halogen bulb will cost $5.18 per year to operate (based on 3 hours of use per day), while its Link bulb will cost just $1.45 per year to operate. Cree says operating its slightly brighter bulb will cost $1.64 per year.