Cat S60 Review: Batman called and wants his phone back
A rugged phone designed for someone who puts durability ahead of performance.
From the moment you unbox the Cat S60 it's apparent this phone is unlike anything you've seen before. It's disgustingly thick, oddly shaped, has a funky door on the back of it, and the word "Flir" embossed next to one of two cameras.
While other smartphone makers are obsessing over shaving off fractions of millimeters in a bid to shout "innovation" for the sake of shouting innovation, the Cat S60 screams "Go ahead, try and break me." Oh, and did I mention it can see in the dark?
Another way to describe it: The Cat S60 oozes a confident feeling of durability, in the same manner that farmers and construction workers across the globe rely upon Caterpillar equipment to move dirt.
The real test, however, is how well a device with Cat's namesake lives up to the reputation.
It's not going to garner much attention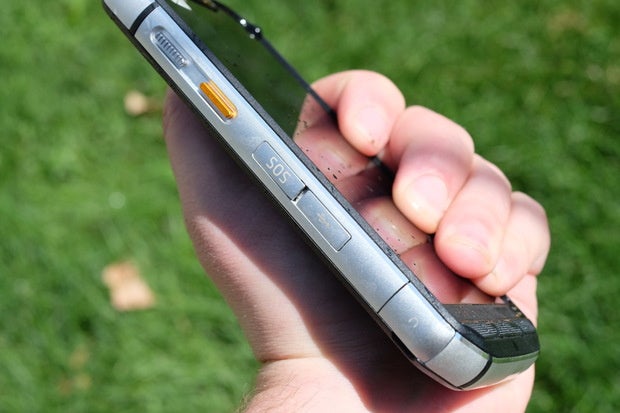 An SOS button makes it easy to send your exact location to coworkers or loved ones in an emergency.
I hate to harp on the size of the Cat S60, but I don't feel like I have a choice.
Measuring 12.95 millimeters thick, you could stack two Moto Z's on top of each other (5.2 mm each) and the Cat S60 would still be thicker. It weighs 225 grams, while the Samsung Galaxy Note 7 weighs 168 grams.
In short, the Cat S60 isn't a very pocketable device. If I were to use one as my daily phone, I think I would opt for a clunky belt holster instead of trying to live with it in my front pocket, where I normally keep my phone.
On the left side of the housing you'll find the power button and a programmable key. You can program the key through the settings apps to do things like turn on the flashlight or reveal the notification shade.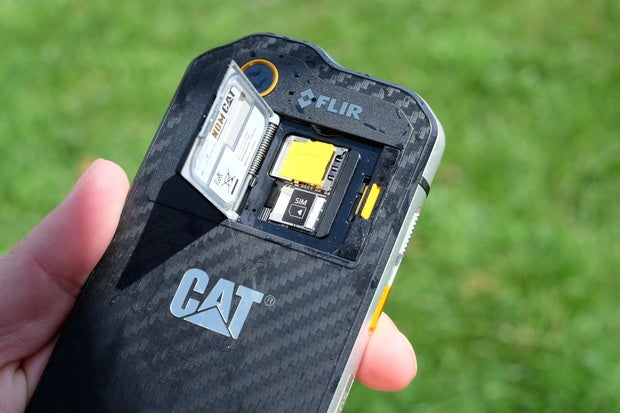 A gasket sealed door on the back of the Cat S60 is where you'll find the SIM and microSD card trays.
Just beneath those buttons you'll find a covered SOS button, a covered microUSB port, and a 3.5mm headphone jack, also covered. The covers help protect the phone's ports, helping it achieve its IP68 certification for dust and water resistance.
When triggered, the SOS button will send a text message with your current location to contacts of your choosing. Which is a feature someone such as a park ranger or farmer would surely appreciate in the unfortunate event that something bad happens.