David Bowie, tech visionary, predicted social media's rise
In 1999, the pop star was predicting the success of music downloads and ripping wearables.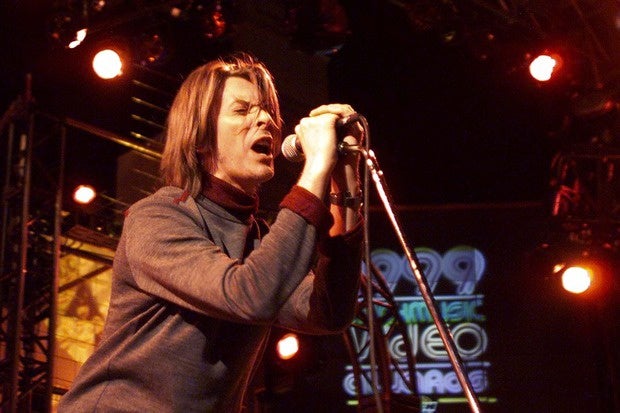 David Bowie performs at the 1999 Much Music Video Awards in Toronto. Credit: Andy Clark/Reuters
In 1999, Computerworld took a look ahead at the coming decade, the first of the new millennium, and asked 20 visionaries to share their thoughts about the impact that technology would have on all aspects of society -- from everyday life to the economy and the arts. The roster of people we interviewed ranged from Internet pioneers and veteran CIOs to recent college grads, and included one individual whose impact was felt by generations of fans in many spheres of life: David Bowie, who died on Sunday at the age of 69. The story about him -- which ran on January 4, 1999 -- follows in full.
Starting his fourth decade in the limelight, musician and philosopher/trendsetter David Bowie is no stranger to technology. Since the mid-1980s, Bowie has used his Macintosh to create lithographs and write lyrics. Now, at age 51, he's into the Internet. BowieNet is his latest project, a portal at which Bowie keeps a personal journal and chats every day with fans. (He also lurks in chat rooms under a handful of assumed names to observe.) Next, Bowie wants to add three-dimensional avatars -- on-screen representations to let members create online personas. He also plans to broadcast a live recording session with a 360-degree camera from Lucent Technologies Inc. All this, he tells Computerworld senior editor Kim S. Nash, is so "we can know each other in new ways."
BOWIE SPEAKS: My interest in the Internet arose more than anything else because of my son's interest in computers. Being the doting father, I got involved because he was involved, in 1993 or '94. Before that, I was using the computer for writing and painting.
Then a friend of mine in Silicon Valley developed a cut-up computer program for me where it takes my chunks of prose and reassembles them for me. You end up with something very surreal.
Cut-up prompts your mind into action. It might display something that you hadn't thought about or shine light on areas that, in rational thinking, maybe wouldn't have gotten there at all. But it's not new. It's the way that, indeed, James Joyce and William Burroughs worked, but they tended to work with scissors and glue. I thought, "Well, hell, it's such a bore to cut up lines of poetry or dialogue and reassemble them." So now the computer produces reams of stuff at my command. I took care of lyrics for the next hundred years! That form of writing is chaotic like the Internet, and like the Internet, will continue to be into the future.