Dropsy review: Do clowns dream of balloon sheep?
This point-and-click adventure's about as tragic as it is weird.
Then there's an entire subplot revolving around Dropsy's old circus, which burns down in the introduction to the game. Most of the in-game hatred for Dropsy comes from the fact people think he had something to do with it—he even has nightmares that look like this:
Yeah, it's disturbing.
Dropsy didn't do it though. That's pretty clear. And now there are a bunch of amateur Sherlocks in the Steam forums trying to read between the lines and see who did. Some have even gone Carl Jung on Dropsy and interpreted the clown's nightmares. It's fascinating. The game wields subtext in a way few games even bother.
It reminds me, in a way, of Gone Home—specifically, a small and easily missable side bit about Uncle Oscar. Dropsy's main story is interesting, at times even emotional, but it's standard video game fare. But by funneling the world through Dropsy's eyes it essentially lets two worldview's coexist: Dropsy's childlike interpretation of events and the audience's understanding of what's really going on.
One last example: There's a moment where Dropsy gives change to a homeless man to make him happy. To Dropsy, this makes sense. In the short term, the man is happy. He gives us a hug. He walks into a bar. Dropsy is happy.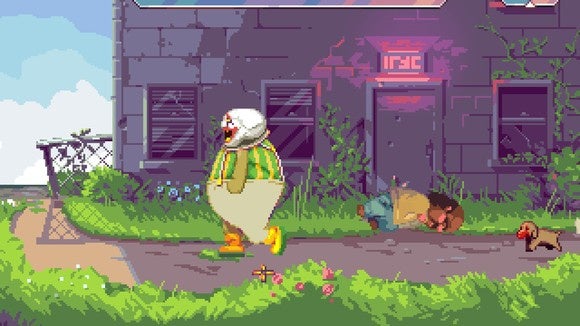 The player's perspective, though? It's clear the player hasn't really done a "Good Deed." In exchange for short-term aims (Hugs) the player has turned into an enabler. The next day you can walk into the alley behind the bar and find the homeless man sleeping there.
Dropsy doesn't know he's done anything wrong. The morality of that action is too complex for his worldview. But the player knows.
Finally, I'd like to specifically compliment Dropsy's music, done by Chris Schlarb. From noise rock to lilting jazz to crunchy synths, it's a fantastic soundtrack. My only wish is that some of the tracks got more play—many are consigned to collectible cassette tapes and only play on certain screens or when you're in the car.
Bottom line
Dropsy isn't an amazing point-and-click, but it's clever and it's weird and it stands out—both artistically and thematically. I'm impressed with the game and doubly impressed with the amount of weird mysteries hidden below the surface. Expect to spend four or five hours actually playing and then another hour reading weird theories afterward.