Dyn attack highlights 2016 security industry woes
A look back on another busy year fighting off the bad guys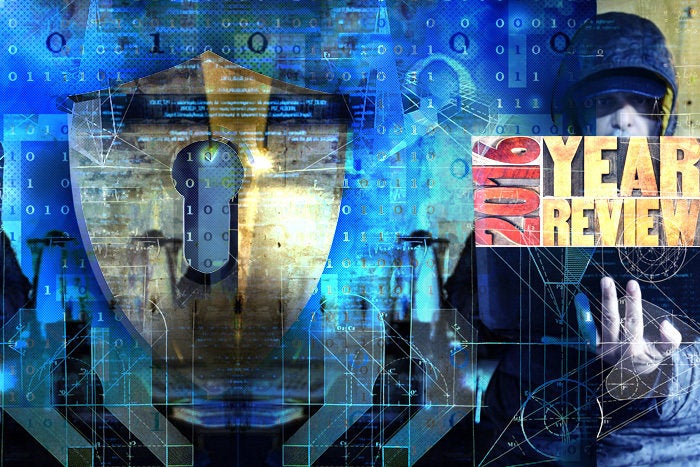 This has been another eventful year in the realm of cyber security—with a number of high-profile data breaches that affected large numbers of people and technological developments that promise to impact the market for years to come.
Here are some of the more notable developments, according to security and IT executives.
DNS incident shuts down internet sites
In late October, many organizations across the internet including some of the largest Web sites disappeared after an attack was launched against Dyn, an infrastructure provider offering managed DNS services.
The distributed denial-of-service (DDoS) incident affected users in most of the East Coast of the United States as well as data centers in Texas, Washington, and California. According to statements from Dyn, tens of millions of IP addresses hit its infrastructure.
"The DNS attack was interesting in that it made all levels of [our] company aware that security-driven changes to our DNS and internet access were made in order to avoid such denial of service," says Barr Snyderwine, director of information systems and technology at Hargrove.
"It also made all users aware that security is important," Snyderwine says. "Users have to be aware that every device is a potential risk and that it can impact their own jobs. Our security phishing training we provided just the previous month is serious business. In fact, many people said it helped them at home and work."
Artificial Intelligence (AI) gains ground
This was a year in which AI seemed to become a lot more mainstream. Machines are getting smarter, with AI capabilities being embedded in a growing number of devices.
Companies are using machine learning techniques to train robots to have greater functionality and take on more complex tasks. Advances in data analytics and the analysis of visual data are also adding new dimensions to AI. And enhancements in the machine learning algorithms used for language processing are making it easier for people to communicate with machines.
All of this has significant implications for security.
"AI has come a long way with machine learning technologies now capable of performing intelligent analysis of data and situations," says Erkan Kahraman, CSO at Planview. "It's also making an impact on the security industry, where we see more tools and solutions with AI capability, such as network intrusion detection with AI or advanced data analytics and behavior analysis powered by AI. Everything will be plus-AI in the future."
Blockchain in the spotlight
This year also saw lots of activity with regard to blockchain, a public ledger of all the Bitcoin transactions that have been executed. The digital ledger of transactions, which can be shared among a distributed network of systems, is constantly growing as blocks are added to the blockchain in a linear, chronological order.