Energy storage capacity spending to increase six-fold by '24
Storage systems can eliminate utility demand charges for businesses, saving them money
New research from Bloomberg New Energy Finance (BNEF) forecasts massive growth in the energy storage market, first in utilities and then in corporations seeking to reduce their overhead costs.
The "Global Energy Storage Forecast, 2016-2024" shows that the annual investment in energy storage systems will increase six-fold to $8.2 billion in 2024.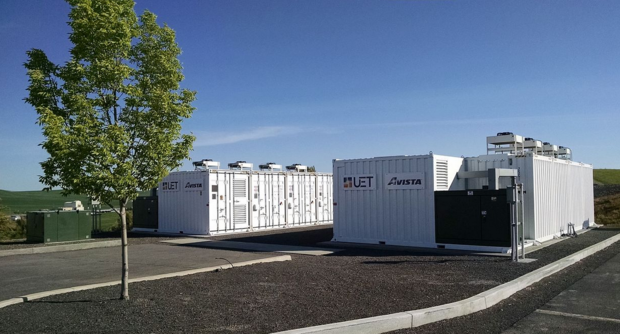 Creative Commons Lic.
A 1MW and 4MW containerized vanadium flow battery owned by Avista Utilities and manufactured by UniEnergy Technologies that was installed at the Schweitzer Engineering Laboratories, in Pullman, Wash.
Over the same period, about 45 billion watts (81 gigawatt hours/GWh) of energy storage capacity will be installed globally, excluding pumped hydroelectric systems.
The top five markets are Japan, India, the United States, Chin, and Europe; they represent 71% of the global total for storage installed in 2024.
Between now and 2024, $44 billion will be invested in energy storage systems; that compares to $3.9 trillion that will be invested in power generation capacity over the same period.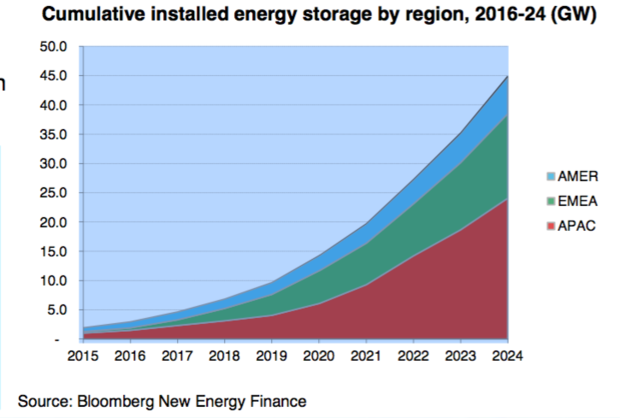 BNEF
While the amount of installed energy storage capacity will represent a tiny fraction of the installed generation capacity (i.e. solar, wind, hydroelectric and nuclear), the world's electricity system will look "fundamentally different," according to BNEF Senior Analyst Logan Goldie-Scot.


BNEF
At the moment, 84% of stationary energy storage (i.e., not pumped hydroelectric) is being installed by utilities, Goldie-Scot said. It's common to see utilities installing 30 megawatt (MW) to 50MW storage systems, which are used during peak use hours.
By 2021, however, the "behind-the-meter" market for storage capacity, or systems installed in businesses and homes, will become the largest segment, he said.

A home with a Tesla Powerwall battery system. The batteries can be installed inside or outside of a home.
"What a lot of these companies are looking for now is onsite [electricity] generation. And if they're looking at onsite generation, then energy storage becomes a crucial tool to help increase their rate of onsite energy consumption," Goldie-Scot said.
According to research firm IHS, over the next decade, lithium-ion (Li-ion) batteries will become the mainstream energy-storage technology, with more than 80% of global energy storage installations including it by 2025. Half of all energy storage installations will occur behind the meter, driven by self-consumption and back-up needs.
Tesla and its development partner Panasonic are leaders in lithium-ion battery production. By 2020, Tesla CEO Elon Musk believes his company's "Gigafactory" outside Reno, Nev. will produce 35 gigawatts (a gigawatt is one billion watts) of battery capacity, with the objective of driving down the per-kilowatt hour (kWh) cost of battery packs by more than 30% through economies of scale. Tesla is offering residential and commercial Li-ion battery systems.