Energy storage capacity spending to increase six-fold by '24
Storage systems can eliminate utility demand charges for businesses, saving them money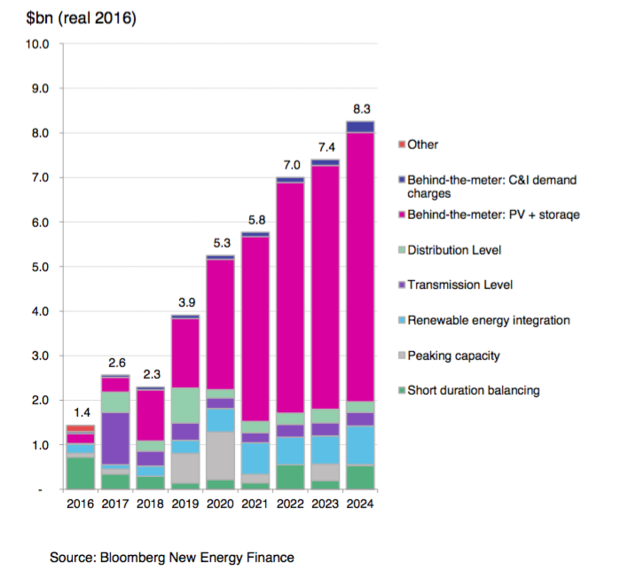 Seventy percent of new investment in 2024 will be in behind-the-meter storage, alongside photovoltaic panels. This reflects the large volumes being deployed and the fact that residential and commercial storage capital expenditures are higher than for utility-scale.
In the consumer market, households taking advantage of solar or wind power from rooftop systems or utility-provided clean energy will also see a spike in energy storage systems over the next five years, according to NBEF's report.
The typical household using renewable energy today receives about 30% of its overall power from that technology. But if an on-site energy storage system, such as a lithium-ion battery, is added, the rate of consumption skyrockets to between 60% to 70%, Goldie-Scot said. That's because most energy in a household is not used during the day when renewable energy systems, such as rooftop solar panels, are generating it; instead, homes use the majority of their power at night when the solar power systems are not at work.
For businesses, installing energy storage systems, either lithium-ion or flow battery systems, follows the recent trend of installing onsite energy-generating systems.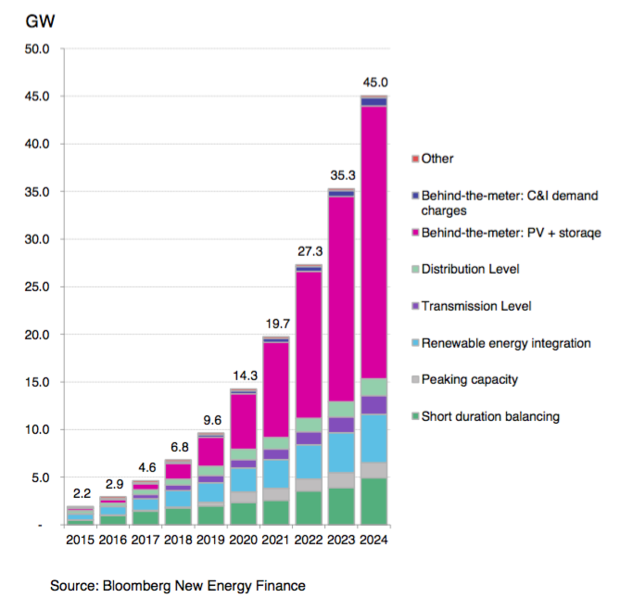 Behind-the-meter photovoltaic plus storage will make up 64% of all commissioned capacity in 2024.
For example, new U.S. solar power installations this year are set to break all previous records by more than doubling what was installed last year, with 16 billion new watts of photovoltaic (PV) capacity.
The total operating solar PV capacity in the U.S. is expected to reach 25.6 gigawatts of direct current (DC) by the end of the year, according to GTM Research's U.S. Solar Market Insight Report.
"The U.S. is indeed the fastest developed growth market for solar globally and in 2016 will be the highest growth market overall," said Mohit Anand, GTM's senior analyst for Global Solar Markets.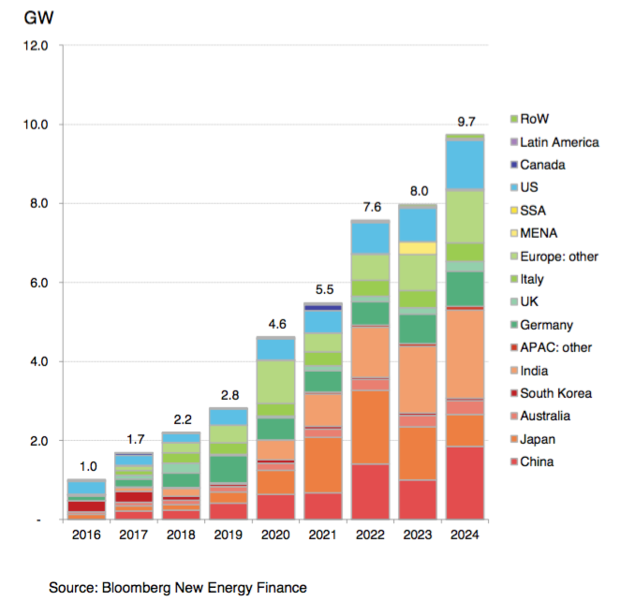 Annual energy storage installations will increase from just over 1GW in 2016 to nearly 10GW in 2024. This will require significant development of the energy storage value chain.
Onsite energy storage can greatly reduce business operating costs by eliminating on-demand electricity charges from utilities. At one time, U.S. electric utilities charged flat rates for electricity, but that has changed over the past 30 years and 16 states, such as Hawaii, New York and California, charge additional fees for electricity use that exceeds pre-set limits during peak hours.
Large corporations will often have "demand meters" installed by utilities, which register the highest rate of electrical flow during a billing period. A demand meter records an average flow for every 15-minute interval. The enterprise is billed for the highest average 15-minute flow typically over a monthly billing cycle. So, if an enterprise goes over its typical energy use, that becomes the rate at which they're charged.