Fire TV review: Amazon's set-top box is cooking with gas
The Fire TV is in its way of planting a flag in your living room—along with as much Amazon-provided streaming content as possible.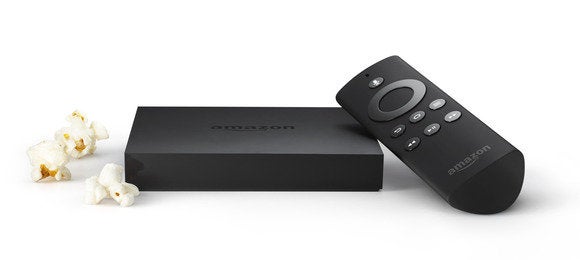 AMAZON. Speedy delivery of your content means more time watching videos instead of spinning "loading" icons.
Fire TV plays videos over Wi-Fi much faster than my Apple TV does using a wired Ethernet connection, and they're in HD from the very beginning. If you choose a movie or TV show from your Amazon Watchlist, or something that's been recommended for you on the Home screen, it loads even faster (as in, you might not see the little circle icon that means "loading" at all). You're just watching. It's awesome. Leaving the movie to head back to the main screen or launch a voice search is instantaneous, and so is resuming a video you've recently started. Anyone new to the set-top box scene will be instantly spoiled by the Fire TV's performance, and if you already have another box, it will suddenly seem slow as molasses.
The remote whisperer
The Fire TV's remote is quite the performer too. It's slightly larger than the tiny Apple TV remote, and a little thicker, which makes it easier to hold and harder to lose between the couch cushions. The remote pairs to your Fire TV with Bluetooth, which means you don't need a line of sight to the box, in case you want to hide it behind your TV or in a cabinet.
The remote's best feature, though, is the built-in microphone and voice-search button. Press and hold this, and at the prompt, just say what you're looking for: a movie or TV show title, the name of an actor or director, or even a genre. Your query is processed in the cloud, and when it comes up on the screen you just confirm it with a button-press to get results. Once you choose a video, the first page of results is always Amazon's offerings (rent and buy, as well as "watch now" if it's available on Prime), and you have to click to a separate screen for "more ways to watch," which will include Hulu Plus results if applicable. If your search turned up any music videos on Vevo, those are presented in a separate tab.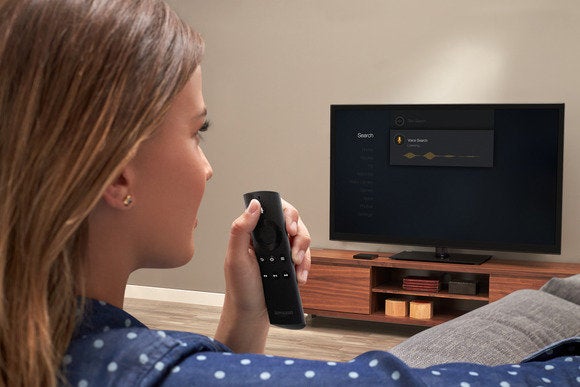 AMAZON. Searching by voice works so well that it's frustrating that it doesn't work across all the Fire TV's apps, like Netflix.
Voice search is crazy convenient, but it's got some fairly major limitations. It doesn't search all the services, just Amazon, Vevo, and Hulu Plus. If you want to search Netflix, you can do that from inside the Netflix app, pecking it out with the remote on an on-screen keyboard. Same with YouTube, Showtime, and all the rest. If you invoke the voice search while you're in one of those apps, it still just searches Amazon, Vevo, and Hulu Plus. And if you're looking for something that isn't on Amazon, you just won't find it with voice search. I couldn't find a Hulu original like Behind the Mask that isn't available anywhere else, and when I searched for House of Cards, I found out I could buy season 1 on Amazon, but it didn't tell me I could watch both seasons free on Netflix.
Previous Page 1 2 3 4 Next Page