Fire TV review: Amazon's set-top box is cooking with gas
The Fire TV is in its way of planting a flag in your living room—along with as much Amazon-provided streaming content as possible.
Amazon says its "vision" is to make voice search cover all the channels, so hopefully it'll improve with future updates. Right now it works well, if you're trying to search for Amazon content, although it could really use a way to filter those results to just videos you can watch free with an Amazon Prime subscription. The accuracy is generally very good, although it stumbled at times--no matter how I pronounced "Steve Buscemi," it never got that one right.
Would you like to play a game?
Amazon hopes gaming will be a big selling point for the Fire TV. The roster of Fire TV-optimized games currently includes big names like Asphalt 8, Minecraft Pocket Edition, NBA 2K14, Sonic the Hedgehog, and Crazy Taxi. Amazon is working with developers like Gameloft, Sega, Telltale, and EA, Ubisoft, and Rockstar to bring more games to the platform, and the company even launched an in-house Amazon Game Studio to produce its own titles.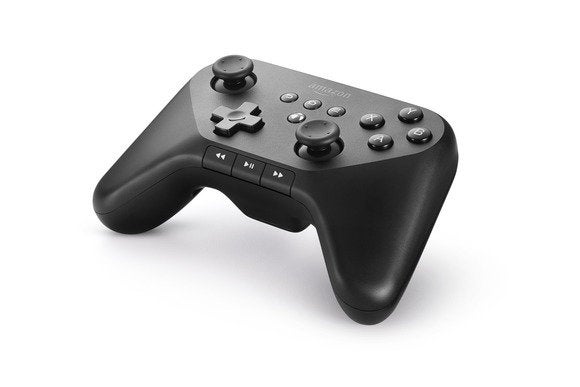 AMAZON. The $40 Amazon Fire Game Controller ships in early May, with preorders going on now.
The first original game from that effort is Sev Zero, which is a tower defense game with some third-person shooter aspects. It's even got a second-screen companion app: while one person defends the home base in Sev Zero on the Fire TV, a second person can use Sev Zero: Air Support to collect resources, level up the weapons, and call in air strikes.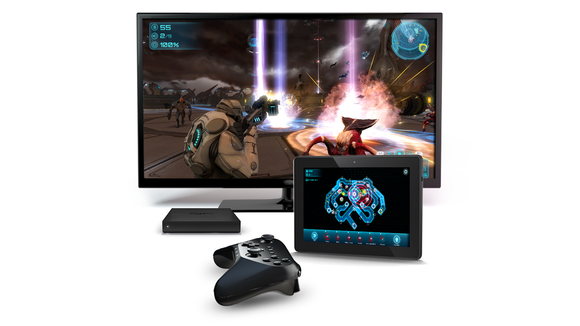 AMAZON. Sev Zero is the first original Fire TV title from Amazon Game Studios.
Sev Zero comes with the $40 Amazon Fire Game Controller, which feels like a slightly cheaper Xbox 360 controller, connecting to the Fire TV with Bluetooth and running on two AA batteries. You can play some simpler games with just the buttons on the remote control, but most gamers will want to pick up the controller, which is required for some games. Media-playback buttons also let the controller double as a second remote for controlling the Fire TV.
We'll have a separate review of the Fire TV as a game machine coming soon, but it's not a direct competitor to the Xbox One or PlayStation 4. Instead, it'll feature the kinds of games you'd play on a nice tablet.
Mirror, mirror
Speaking of tablets, if you have a Kindle Fire HDX tablet, you can mirror its screen to the Fire TV from the Settings menu, under Display & Sounds--the effect is just like mirroring an iPad or iPhone's screen to an Apple TV. And Fire TV has a little Chromecast-like feature too: When you install the YouTube app on your Fire TV, you have the option to pair a laptop, smartphone, or tablet. Then, using that paired device, you're able to tap the same Cast button in YouTube as you'd use to send a video to a Chromecast, select YouTube TV as the destination, and watch that YouTube video on your television. While it's playing, you can keep browsing YouTube on the other device, and even go to another site or app. You can also pause the YouTube video with the Fire TV's remote.
Previous Page 1 2 3 4 Next Page