Fire TV review: Amazon's set-top box is cooking with gas
The Fire TV is in its way of planting a flag in your living room—along with as much Amazon-provided streaming content as possible.
Amazon added a Second Screen feature, too. You can fling Amazon videos playing on your Kindle Fire HDX to the Fire TV, and use the tablet to control playback, or do whatever else you do with your tablet. The X-Ray feature, coming soon, will also display IMDb-powered info about the video you're watching, including cast and crew, the name of any song that's playing, trivia, and character backstories. Amazon says the Second Screen feature will come to iOS devices later this year.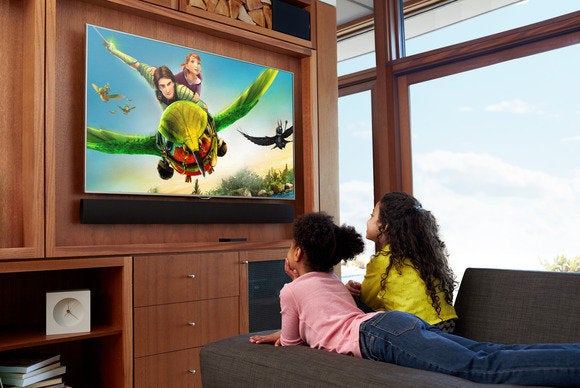 AMAZON. Once the FreeTime feature is added, Fire TV will have more robust parental controls than its competitors
The FreeTime feature, also coming next month according to Amazon, lets parents set tight restrictions on what their children can watch and play on the Fire TV. Parents will be able to set time limits for different kinds of content, restrict usage to certain times of day, and even have the Fire TV boot into FreeTime mode, so Junior can't circumvent the rules by just unplugging and replugging the box.
FreeTime already works on the Kindle Fire tablets, so it's smart of Amazon to bring it to the Fire TV, along with the subscription-based FreeTime Unlimited service, which provides tons of content tailored to kids. It's a little odd that Fire TV didn't support this feature from Day 1, since it could be a big selling point for families. Apple TV allows parents to require a passcode for accessing certain channels, making purchases, or to watch videos with mature ratings, but nothing on the time-limit side. Roku's parental controls are even more limited—all parents can do is add a PIN for the Roku Channel Store, so kids can't order up more channels on their own.
Bottom line
Besides promised features like FreeTime, and beefier voice-search capabilities, the Fire TV would benefit from some more apps. HBO Go is a big omission, but Amazon says it's working on adding that one ASAP. Fire TV doesn't need 1000-plus content sources like Roku has, but a few more, like MLB.TV and PBS, would go a long way.
Music channels include Pandora and iHeartRadio, but other services like Rdio and Spotify would be most welcome—and it's a shame that you can't even access your Amazon MP3 purchases via Amazon Cloud Player at the moment, another feature that's coming "next month," Amazon says. You can look at photos stored in your Amazon Cloud Drive, but other services like Flickr (which is on Apple TV and Roku) would be good to add, too.
Naturally, Amazon's Fire TV puts Amazon's content front and center. If you are already invested in Amazon's ecosystem—or you have a Prime subscription but don't find yourself using the Prime Instant Video library much—the Fire TV is a no-brainer. If you buy your entertainment from Apple's iTunes Store or Google Play, obviously you won't find as much utility in this box. But if you've remained ecosystem-agnostic up until now, Amazon's box is speedier than the Apple TV and Roku 3 (which are also $99), and the extra value offered in the games and voice search give it an extra edge. Once Amazon adds more apps and delivers the promised extra features, the Fire TV is gonna be hot.
Previous Page 1 2 3 4