For virtual reality to be perfect, it needs to be less perfect
Arcades that don't feel like arcades, living rooms that don't feel lived in—we take a look at virtual reality's problem with perfection.
Museum dioramas are a far cry from reality, though. If our aim is ostensibly to create a virtual reality nearly indistinguishable from "real reality," then we need to overcome this frozen-in-time feeling. And that's hard. It's hard to make things feel lived-in.
The arcade that isn't
I ended up thinking about this due to some hands-on demo time with Oculus Arcade last week. The app, which comes with any Samsung Gear VR headset, features a collection of classic arcade games from Sega, Midway, and Namco.
This is no mere MAME emulator, however. Oculus Arcade puts you, as you might expect, in a virtual arcade—or at least something we'd call an arcade for lack of a better term. There are two dozen arcade cabinets sitting ready, from Pac-Man to Altered Beast to Gauntlet.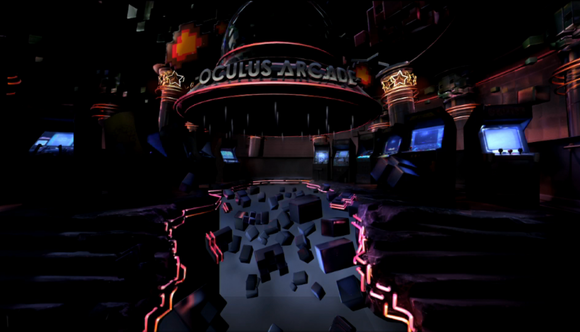 I played a bit of Joust, one of my favorites. The game ran well, which is no surprise—MAME emulation has been around for decades, and the Joust ROM takes up only about 32K of space. This isn't exactly Crysis. I flap-flap-flapped my wings and collected eggs and fought the pterodactyl, and it was identical to any other game of Joust I've played.
Except, you know, in virtual reality. In this weird museum environment.
Arcades are a place of sensory overload. It's dozens of games acting as their own lo-fi advertisements, with brightly lit marquees and flashing lights. Even then the room's always a bit too dark, which in my childhood meant "mysterious," but which now often means "sort of dank." In the old days it smelled like cigarette smoke. These days, with California's focus on healthy living, it typically smells like stale sweat—or, at a barcade, like spilled beers. The place is deafeningly loud, cabinets cranking out beep-boops and iconic music while players hammer on the buttons.
And it's tactile. Everything about an arcade is tactile. Slamming quarters into the slot, tapping the Start button, flexing your hands on the controls, leaning against the marquee—it's an experience. It's alive.
Oculus Arcade has none of this. Here, Sega and Midway and Namco's contributions to gaming history live on in perfection. The joystick will never yaw left, the buttons will never get sticky. The side art won't be scratched. You'll never gather 'round a cabinet as your friend tries to break the high score, or have to wait for someone to finish up on your favorite game.
You'll never run out of quarters.
Realer than real
This problem is unique to virtual reality. I've played Joust on dozens of machines over the years—handhelds, PCs, custom-built MAME cabinets, and even this Joust keychain. Each of these machines offered me the ability to play Joust with a minimum of hassle, but the value proposition was always clear: "Hey, would you be interested in playing Joust on [insert machine here]." Not once have I contemplated whether I was "really experiencing Joust," because clearly the answer was no.