Hands-on with the new Apple TV and Siri Remote
Apple's new set-top box lost a port but gained a great new way to navigate.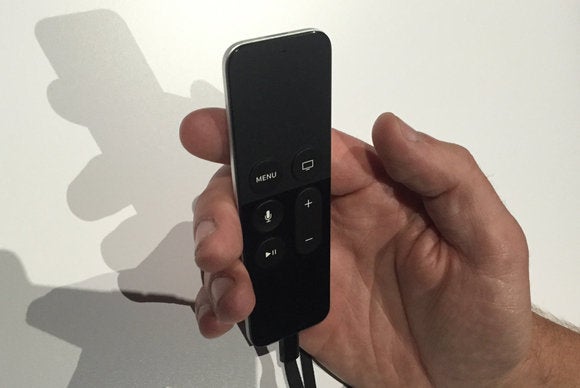 The Siri Remote ditches the circular D-pad on the old version, and instead you swipe around on the glass touchpad area up top. Hold down the microphone button to talk to Siri—the mic is embedded right in the remote. Credit: Susie Ochs
Searching brings up results for multiple services at the same time. Ask for New Girl, and it'll show you what's on iTunes as well as Netflix and Hulu. (HBO is also supported, but they don't have New Girl, of course.) Apple says it'll add more services over time, but those are a great start.
Siri can even let you navigate once you're watching something. You can ask her to skip forward a minute—Apple wouldn't tell me if that works to skip commercials in Hulu, but I doubt it. You can even ask, "What did she say?" if you missed a line, and the playback will jump back 10 seconds and temporarily bump the volume so you can catch it on the replay. That's all very cool.
Apps
My demo included a peek at some games, like Galaxy on Fire 3: Manticore Rising. They looked great, like console games, but I'm not a console gamer and I don't get excited about stuff like background detail and bloom lighting. I saw a demo of Rayman Adventures played with just the Siri Remote (held sideways), as well as a stripped-down shooter called Fantastic Plastic that automatically shoots for you as you aim.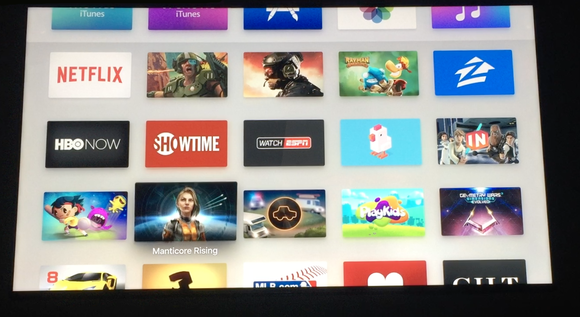 Apps aren't labeled in the grid, which means we're relying on developers to make their icons instantly recognizable to everyone. (Good job, Netflix. Try again, games.) Credit: Susie Ochs
MFI game controllers are supported too, so you can play multiplayer with up to 4 people, and Game Center lets you play against people over the Internet. We weren't blown away by the Fire TV's similar approach to gaming, but Apple has greater developer support, so maybe it can succeed where the Fire TV fizzled.
Neither the Gilt app nor the Zillow app convinced me that shopping from your TV is going to Be A Thing, but that's just a personal preference. At least with the new Apple TV's App Store approach, you won't see apps you don't want. The new MLB app looks cool, taking advantage of your TV's big screen to show you multiple live games at once.
Ports
The new Apple TV looks just like the old Apple TV (which is still for sale for $69), only it's about half an inch taller. But even with more surface area to work with, Apple ditched the optical audio-out port on the old version. Now the only way you can get sound out of your Apple TV is with HDMI.