Hands-on with the new Apple TV and Siri Remote
Apple's new set-top box lost a port but gained a great new way to navigate.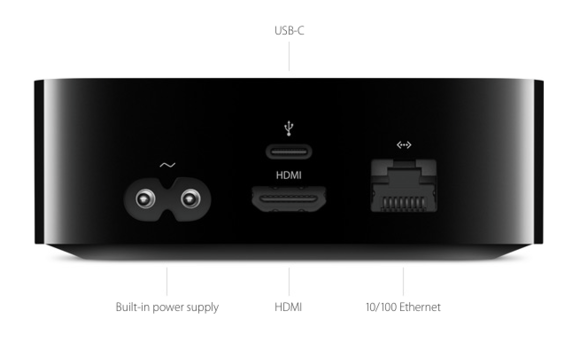 No optical-out port is hugely disappointing to me, but others might not care as much. The USB-C port isn't for you; it's just for service and support. Credit: Apple
And that really stinks. My current Apple TV—used daily—is connected to my TV with HDMI, as well as my stereo receiver with an optical audio cable. That way, if I'm just watching TV that will sound good enough on my TV's speakers, I can leave the stereo off. But if I am watching Top Gun or something, I can mute the TV, flip on the stereo, and enjoy Tom Cruise's antics in surround sound. I like having the option. I also enjoy sending music from my iPhone, iPad, and Mac to my stereo via AirPlay on the Apple TV, and my television can stay off.
Sure, newer receivers have HDMI or even AirPlay built in, or I could use an AirPort Express to AirPlay music to the stereo, but it bums me out that Apple didn't think it necessary to let users select different audio outputs for different use cases.
Still, the new Siri Remote and the multi-channel search are huge steps in the right direction, and I'm looking forward to thoroughly testing the new Apple TV when it ships in October.
Previous Page 1 2 3