Hasselblad True Zoom review: A curiosity with almost noting to recommend it
For $250 you should just buy a vastly superior point-and-shoot camera.
We've seen plenty of products that snap a lens over top of your existing smartphone lens, but nothing quite like this. The Hasselblad True Zoom is a Moto Mod that works with Moto Z phones, and completely replaces your phone camera with a point-and-shoot that gives you 10X optical zoom. It certainly doesn't come anywhere near approximating the quality of Hasselblad's famous medium-format cameras. Frankly, Hasselblad should be ashamed to have their name on this.
It's a curiosity, a technical "huh, that's kinda neat" exercise that delivers lower quality and less value than a comparably-priced point and shoot camera.
Hasselblad in name only
Hasselblad is famous for its high quality medium format cameras. When NASA took cameras into space on Mercury, Gemini, and Apollo missions, they were (somewhat modified) Hasselblads. This Moto Mod will not deliver quality deserving of the name.
Snap it onto your Moto Z and it completely replaces the built-in camera (currently only the Moto Z Play is supported, with a software update coming soon for the Moto Z and Z Force). The camera app works the same, but the HDR toggle is gone, and in its place you get a few shooting modes. You can shoot JPG, black and white JPG, or JPG + RAW.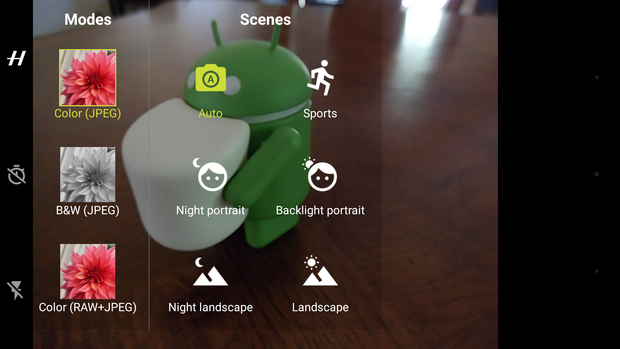 You lose HDR shooting, but gain a few shooting modes. It's not a good tradeoff.
A thin grip makes it a little easier to hold your phone horizontally for shots, and a tiny, flimsy zoom switch quickly pulls the lens from 4.5mm to 45mm (equivalent to 25mm to 250mm on a 35mm camera). There's a reasonably bright xenon flash, toggled using the on-screen button. And of course, the shutter. That's it, that's all the physical controls you get.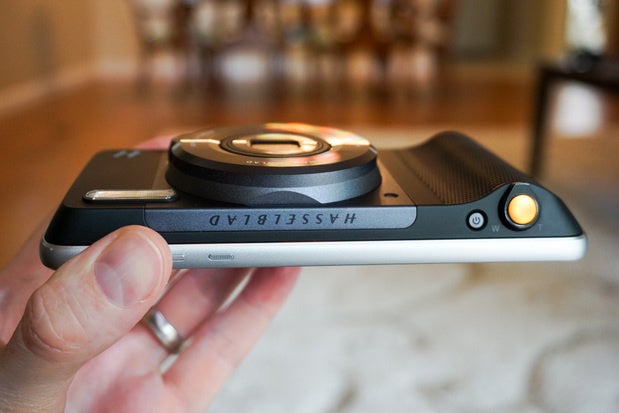 You want physical controls? You get a shutter, power button, and flimsy zoom switch. That's it.
The True Zoom features it's own sensor, a 12 megapixel, 1/2.3-inch CMOS that doesn't particularly impress me. Sure it's got 1.55 micron pixels, but these specs don't supercede the best smartphones. The size and resolution is matched by the Nexus 6P. While most good phones have an lens with an aperture in the f/1.8 to f/2.0 range, the True Zoom features a fixed aperture that is f/3.5 when zoomed out, f/6.5 when zoomed in. That narrower aperture means worse low-light shots.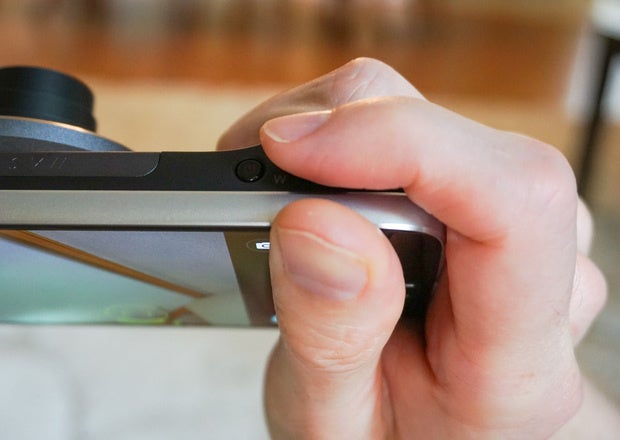 The grip is better than nothing, but too shallow to be really useful.
So you've got a sensor equivalent to what you'd find in a good smartphone, a much smaller aperture, and a couple of extra physical controls. All photos are sent to the camera over the Moto Mod interface, to be processed by the phone. The interface really isn't fast enough for burst photography, and there's a significant lag after taking each shot.