Hasselblad True Zoom review: A curiosity with almost noting to recommend it
For $250 you should just buy a vastly superior point-and-shoot camera.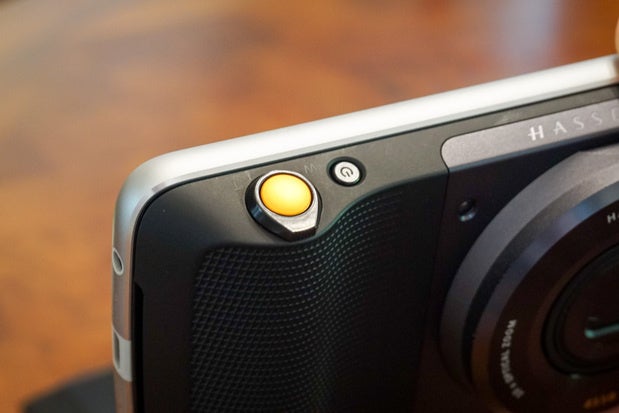 The shutter is small and zoom switch flimsy, and those are really the only controls you get.
You can't even record great video. You're limited to 1080p at 30fps. No slow motion, no 4K. Optical image stabilization is limited to still shots; with video you get electronic stabilization.
10X optical zoom and not much else
The whole point of this Mod is to give you a true optical zoom. That's something smartphones can't do. Those thin bodies prohibit moving lenses, so you're stuck with crummy digital zoom.


Yep, that's 10X optical zoom all right. It's really the only thing the Hasselblad True Zoom does quite well.
As far as that goes, the True Zoom works. You can get clear shots from a long way away, and quickly zoom in and out. And that's about it. It doesn't take better photos than any of the Moto Z phones it works with, let alone industry leaders like Samsung or Apple's latest.


Indoors, photos with the True Zoom are dimmer, duller, and noisier than those shot with the Moto Z Play.
Photos in low light are a bit dull and visibly grainy. In bright light it fares better, but it's still somehow slightly soft and still shows noise. In other words, you're better off not snapping this onto your phone, even if you have it with you, unless you need to zoom in. That's a fairly scathing intictment: the snap-on replacement camera is worse than the built-in one.


Would you pay US$250 more to get the photo on the right? Me either.
Buyer beware
A Moto Mod that you slap onto the back of your phone and instantly replace the built-in camera with something way better? What a great idea!
It's too bad the Hasselblad True Zoom isn't actually better. For US$250 you get true 10X optical zoom, along with lower-quality photos, worse video, no HDR, and to few physical controls. The True Zoom doesn't even have it's own built-in battery, so it drains your Moto Z's battery quite a bit.
For the same price you can get a dedicated point-and-shoot like the Canon PowerShot SX610 (US$245 on Amazon) that will give you more zoom, more detail, better image quality, and more physical controls. There's little excuse for this Moto Mod to cost what it does, considering that the phone does most of the heavy lifting. I'm not sure I would pay $50 for this Moto Mod, let alone 5 times that price. It's a great idea, but the execution and value proposition are miles from where they should be.