Hello, Computer: Just what was that computer Star Trek's Gene Roddenberry used?
We solve the mystery of who made the generic-looking computer that Star Trek's Gene Roddenberry used for years
The answer is...
So what was that mysterious white box? Gene Roddenberry's "computer" for many years was a Lexoriter, a dedicated word processor purchased in the early 1980s, according to Susan Sackett.
Sackett should know. She's the author of several Star Trek books and worked as Roddenberry's executive assistant from 1974 until his death in 1991.
"(The computer) didn't do anything else—it was used strictly for writing and saving work on disks," Sackett told PCWorld. "Later, we added an external modem so we could dial up and chat with other people, but I don't remember much about that."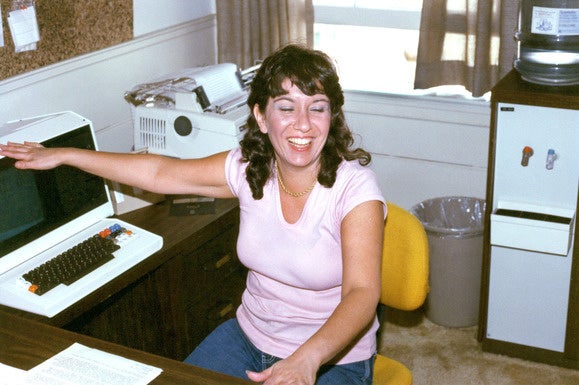 Gene Roddenberry's long-time executive assistant Susan Sackett has a good laugh in front of one of the Lexoriter computers the Star Trek creator used. Credit: Susan Sackett
Sackett said they cost about $6,000 to $7,000 for the pair and one sat on her desk with a daisywheel printer (later upgraded to a dot-matrix) while the other sat on Roddenberry's. The disks would be handed back and forth in the classic Sneakernet of the early 80s.
The machine itself, from what I can tell from a 1982 edition of Computerworld, had a Zilog Z-80 processor, two floppies, and the Luxor WP software in a ROM chip. It was touted as being able to interface with the popular electric typewriters of the period. Its maker, Luxor Corp., appears defunct, but the similarities with the chassis used for the CP/M-based Blackhawk Computer System that Edwards thought it was makes me wonder whether Luxor didn't just source it from Blackhawk.
One thing Sackett is certain of, though: how much RAM the computers had, because Roddenberry would brag about the whopping 64K.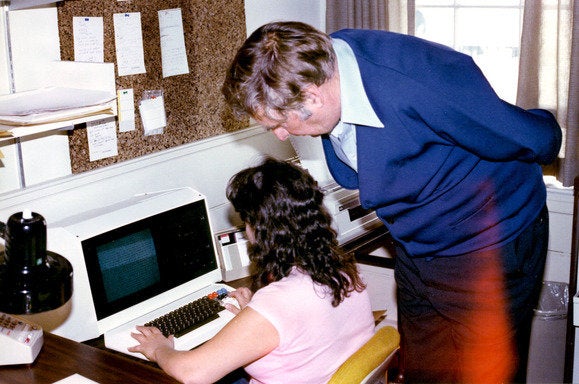 Gene Roddenberry and Susan Sackett in front of a Lexoriter "computer." If you look close enough you can see the printer to the right of Sackett and the traditional box of 5.25-inch floppy disks. Credit: Susan Sackett
For the most part, Roddenberry's "computer" was mostly a glorified typewriter, but he put it to good use filling those 200 missing disks.
"Gene constantly upgraded his devices. He used them mainly for writing and rewriting his Star Trek II novel (which was never published) as well as script (which was never filmed), and his speeches and general rewrites of all these," Sackett said. She also ventured a guess as to what is on those disks.
"Sorry to disappoint, but there are no long-lost Star Trek episodes on the disks! I can't recall specifics, but it would be mostly correspondence, speeches, and script ideas for the next (at that time) movie."