How to control your privacy in Chromebooks vs. Windows 10
Both Chrome OS and Windows 10 help themselves to similar usage data by default, but in different ways.
When it comes to privacy, both Google's Chrome OS and Microsoft's Windows 10 take an "opt-out" stance.
By default, both platforms collect a variety of data about your usage, but the way they go about it is often different. While Microsoft presents users with a long list of privacy-related toggles, Google's controls are less granular. Both companies, however, make you jump through additional hoops to disable the kind of personalized ads that help them turn a profit.
PCWorld recently broke down all the ways Microsoft grabs at your data in Windows 10, so it's only fair we compare that to Google's computing platform. Here's how Chrome OS and Windows 10 measure up on privacy and data collection.
Setting up privacy
During setup, Google isn't overly interested in presenting lots of privacy options. Aside from a single toggle for usage and crash data collection, Chrome OS only lets you adjust privacy settings after the initial setup. And as you might expect Google enables a fair amount of data collection by default. (We'll dive into specifics later.)
Microsoft's "Express" settings in Windows 10 are similarly aggressive, but at least you have the option to customize many settings before the operating system is up and running. By choosing custom settings, you can adjust nearly every aspect of data collection in Windows 10, from behavior tracking to location data to telemetry.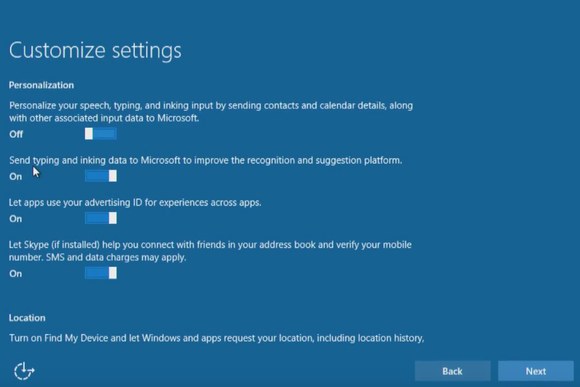 At the end of the Windows 10 installation, you can walk through customizing a number of settings, including these for Personalization and Location.
Collecting your typing
One of Windows 10's more controversial settings involves the collection of typing, handwriting, and speech data, which is supposed to help Microsoft auto-correct people's names. This isn't exactly a keylogger—Microsoft says it filters and slices up the data to avoid collecting personal information—but it's still a bit creepy. It's also enabled by default in Windows 10.
Chrome OS offers a similar setting, called Use a web service to help resolve spelling errors, but it's disabled by default. Turning it on lets Chrome OS tap into the same web-based spell check that Google uses for its search engine, but in exchange you have to send everything you type to Google's servers.
Telemetry data
During setup, Chrome OS's sole privacy-related checkbox opts to Make Chrome OS better by automatically sending usage statistics and crash reports to Google. This is checked by default, and you must click a Learn more button to understand what you're agreeing to.
With usage statistics, Google collects data on "preferences, button clicks, and memory usage," but it's aggregated across all users. Crash reports, however, can get more personal, with Google noting it may collect "webpage URLs or personal information, depending on what was happening at the time of the crash."