How to control your privacy in Chromebooks vs. Windows 10
Both Chrome OS and Windows 10 help themselves to similar usage data by default, but in different ways.
App data
Although Chrome OS is a browser-based operating system, it also lets you install apps from the Chrome Web Store. Unfortunately, Chrome OS doesn't offer an easy way to manage the data that these apps can access. You'll get a disclaimer when you first install each app, but your only option if you're uneasy about data collection is to uninstall.
Some Chromebooks can also install Android apps from the Google Play Store, and the privacy controls for these apps are much more granular. An "Android apps" section in the Chrome OS settings lets you control what type of data each app can access.
Windows 10 has similar controls in the Privacy section of its Settings menu. From here, you can control access to things like location, contacts, messaging, and calendar on a per-app basis. You can also prevent apps from using your unique identifier to show personalized ads.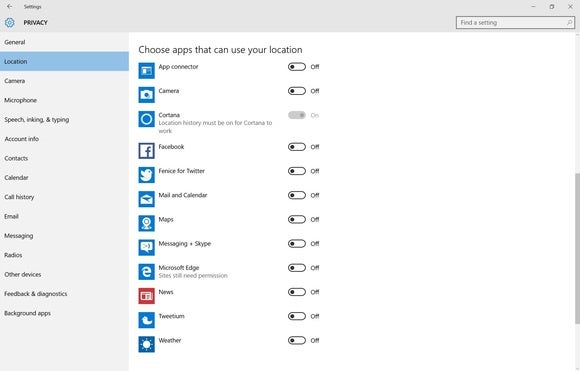 A final word about data collection
In fairness to Google and Microsoft, data collection isn't automatically a bad thing. Features like search prediction and page pre-caching are beneficial for users. Sending telemetry data helps make the operating system more stable. One might even argue that personalized ads are better than irrelevant ones.
Still, there's a trade-off to these enhancements, in that Google and Microsoft get to know just a little more about you, and in the feeling that whatever you're doing, on some level you're being watched. That's why it's important for companies to be transparent about data collection, and to provide users with control.
Overall, Microsoft and Google offer a sufficient level of control for privacy and data collection in their respective operating systems. They're just banking on the likelihood that most people won't mess with the defaults.
Previous Page 1 2 3