How to protect yourself from ATM crime
Banks like Wells Fargo are rolling out much better ATM security. Here's why it won't stop ATM theft.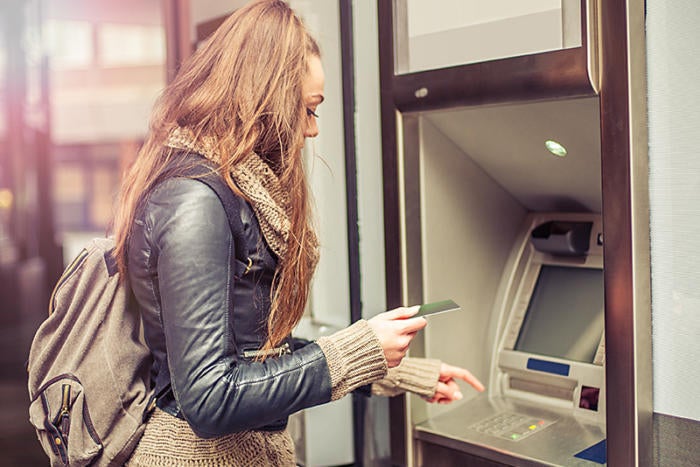 The ATM card is dead. Or is it?
Starting Monday, all 13,000 Wells Fargo ATMs will enable you to withdraw money without using your card, according to Jonathan Velline, head of Wells Fargo ATM and branch strategy.
It works like this: Open the Wells Fargo app on your phone. Tap a button in the app for a temporary eight-digit code. Then enter the code, followed by your PIN, to access your account.
Wells Fargo is the first major U.S. bank to offer app-based access to all of its ATMs.
Citigroup, Chase and Bank of America and others are working on similar ATM functions, with only some machines already upgraded.

Wells Fargo will enable ATM access without a card via a temporary eight-digit code accessible in its mobile app. Credit: Wells Fargo
Later this year, it gets even better. Wells Fargo will activate ATM near-field communication (NFC) readers, enabling you to use Apple Pay, Android Pay, Samsung Pay or the bank's own Wells Fargo Wallet, for gaining ATM access. Just walk up to the ATM, tap the phone on the reader while holding your finger on your phone's fingerprint scanner, and the ATM will prompt you for the PIN. Once entered, you get access as if you had used your ATM card.
The NFC feature won't be universally available until at least late next year. The NFC readers are already built into some 40% of Wells Fargo ATMs, according to Velline, and additional installations will continue through next year.
Not carrying a card means your card can't be used by crooks to steal money from you. And that improves your security.
The downside of not carrying cards is that you won't be able to gain entrance to the ATMs that are behind a door that you can unlock only with a card. (Velline told me that the bank is testing solutions for no-card access to these ATMs, but has nothing to announce yet.)
Why ATM theft is such a big deal
One way crooks steal money is by using an ATM to steal from the bank. It's good old-fashioned bank robbery, but with a modern twist.
These approaches include the Russian way (malware that instructs the ATM to dispense cash when a certain code is entered) and the American way (pulling up to a gas station ATM in your pickup truck, tying a steel cable around the ATM and driving away, dragging it behind your truck).
ATM bank robbery is the banks' problem. You have to worry about your own bank account being drained by sophisticated ATM thieves.