How to transform your laptop into a gaming powerhouse with an external graphics card
With a little bit of research and elbow grease, an external graphics setup can transform your laptop into a gaming powerhouse for a fraction of the price of a whole new gaming PC.
PCIe power connector: PCIe can also refer to a type of power connector with six or eight pins.
ATX 24-pin connector: This is another kind of power connector that is commonly used with PC power supplies, and is one of the power options on PCIe adapters.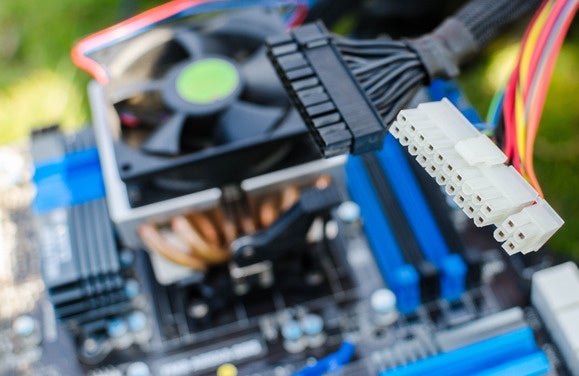 A 24-pin power connector. Credit: Thomas Ryan
PCIe adapter/board: This is a small circuit board with a PCIe slot, some HDMI slots, and a whole bunch of power options. The only point of the PCIe adapter is to help the graphics card communicate with the laptop.
Express Card Slot: This is the spot in your laptop that is reserved for wireless broadband cards from a mobile carrier.
mPCIe: This is an interface that some eGPU enthusiasts use to connect their graphics card to their laptop instead of an ExpressCard. It offers a better connection, but it can be a hassle because most mPCIe slots are inside the laptop.
Thunderbolt: Intel's blazing fast I/O technology is also an option for an eGPU connection. Windows laptops don't commonly offer Thunderbolt ports (yet), but many MacBook eGPU enthusiasts report a great experience with a Thunderbolt connection.
BIOS: This is the program that first starts when you boot your computer. It's usually accessed by hitting F2, another F key, or a special button on your laptop.The BIOS controls a variety of options for your PC including, for example, the boot order.
Frames per second (fps): This is a basic measure of how well a game runs on a given system. The gold standard for PC gamers is 60fps, though 30fps is considered perfectly playable. Many "next-generation" console games still run at 30fps.
eGPU Basic components
A typical eGPU set-up requires five basic items: a laptop, a desktop graphics card, an external display, a PCIe adapter/board to house the card, and a separate power supply for the graphics card. You may also want a laptop cooling pad if you are going to try to play games that go heavy on graphics, like Witcher 3.
Ideally, your laptop is packing an Intel quad-core Core processor, or a dual-core Core processor with Hyperthreading. It'd also be a great idea to swap your spinning hard drive for an SSD. The latter is far more responsive and makes the gaming experience much better, but it's not a necessity.

A BPlus PCIe board for external graphics card usage. Credit: HWTools
The PCIe board is a specialized piece of equipment. The most popular place to grab a board for ExpressCard and mPCIe users is BPlus in Taiwan (HWTools.net). If you're looking at using Thunderbolt 2.0 for an eGPU setup there are enclosures you can buy.
Previous Page 1 2 3 4 5 6 7 Next Page