How to transform your laptop into a gaming powerhouse with an external graphics card
With a little bit of research and elbow grease, an external graphics setup can transform your laptop into a gaming powerhouse for a fraction of the price of a whole new gaming PC.
Most ExpressCard and mPCIe users will want to get the PE4C 3.0 from BPlus, which has a PCIe-3.0 x16 slot, plus a nice stand to support your card. The PCIe board comes as a kit with power connectors, and an HDMI-to-ExpressCard cable that allows the graphics card to interface with your laptop.
First things first
Not all eGPU experiences are created equal, but they all have one thing in common: You have to do a bit of research before you get to the plug-and-play part. In fact, you may discover that your particular laptop is not plug-and-play-ready whatsoever, requiring some software tweaks to function properly.
The first thing you should do is read about the experiences other eGPU users have had with your laptop model. There are a ton of eGPU users out there, and unless your model is particularly new or obscure, chances are high that someone has already created an eGPU set up with your laptop model.
If you don't find anyone with your model, go back a generation, or search for laptops from the same manufacturer to get a sense of the difficulties.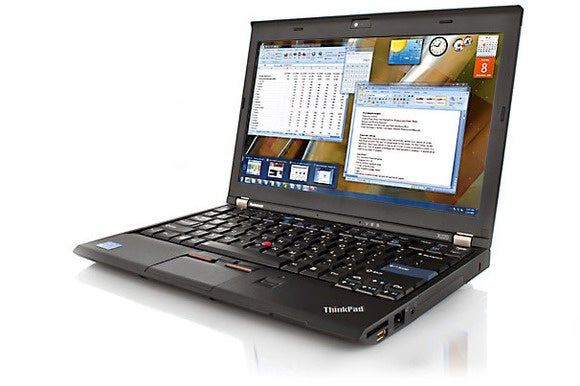 Before I bought eGPU supplies for my 2011 Lenovo Thinkpad X220, I had to research exactly what I'd need. Credit: Robert Cardin
Two sites are central to eGPU research. The first is the TechInferno eGPU threads run by Australia-based Nando4 (we'll just call him Nando) and others. The second is NotebookReview.
One of the most common roadblocks people run across is what's known as "error 12." This happens when your Windows system decides it does not have enough resources to run the graphics card. Error 12 can usually be fixed with solutions such as Setup 1.30, a paid software utility by Nando.
Choosing your graphics card
Once you've figured out what kind of eGPU experience you're likely to have, it's time to start shopping for a graphics card. You can buy pretty much anything, but I wouldn't advise going for a top-of-the-line card such as the Radeon R9 Fury X or the Nvidia GeForce GTX Titan X. Instead, I'd advise you to keep your graphics card budget around $200-$300 or less.
The fact is you can get a really great "sweet spot" card for under $300 that should provide you at least a few years of future-proofing, such as the $200 GTX 960 or Radeon R9 380—both are great cards for 1080p gaming. As Nando over at TechInferno told me (via email), you'll likely see better performance with a higher-grade card, but it will still be bottlenecked by that PCIe x1 or x2 connection to your laptop.
Previous Page 1 2 3 4 5 6 7 Next Page