How to transform your laptop into a gaming powerhouse with an external graphics card
With a little bit of research and elbow grease, an external graphics setup can transform your laptop into a gaming powerhouse for a fraction of the price of a whole new gaming PC.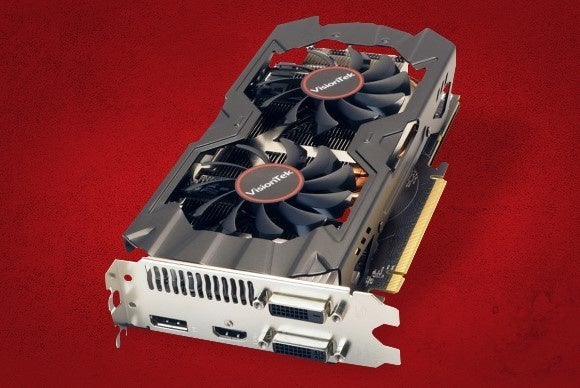 The AMD Radeon R9 380—like this superb version by Visiontek—is the best $200 graphics card you can buy. Credit: Rob Schultz
More importantly, however, there's no guarantee that an eGPU will work until you try it. If you've done the proper research for your laptop beforehand, the chances of a bad experience are fairly low. Nevertheless, there are always outliers and you just might be the one person who runs into difficulties.
If, however, you plan on buying a new desktop sometime soon, then investing in a high-end card right now can be a way to spread out the cost of a new PC over time.
The other decision is whether to go with an AMD or Nvidia card. Most eGPU users tend to go with Nvidia, so that's what I did.
One thing to keep in mind is that your graphics card typically needs its own power connector to work in an eGPU setup. That could be a problem for cards with minimal power requirements like the GeForce GTX 750 Ti, which draws its power from the motherboard. I didn't test whether the stock GTX 750 Ti would work with a BPlus board, but I did end up buying an overclocked version of the GTX 750 Ti that comes with a 6-pin PCIe power connector.
Picking your power supply
Along with your graphics card, you'll also need a power supply unit (PSU). There are many reputable brands of PSUs out there, including Cooler Master, Corsair, and Seasonic.
Alternatively, you may only need a power brick similar to what powers your laptop. Take Nvidia's GTX 650 Ti graphics card, which requires 110 watts of power, according to Nvidia's specs. Nando advises that your PSU needs about 15 percent more power than the card (not the system) requires, meaning a 110 Watt card needs a PSU with a minimum of 127 Watts.
BPlus recommends that anyone with a graphics card requiring more than 220W should use the ATX power option with a standard PC PSU.
Personally, I just went with a modular Corsair power supply since a standard PSU is so easy to find.
Setting it up
The research is done, the BPlus board has arrived, your graphics card is ready for unboxing, and so is the PSU. It's time to get this eGPU rocking.
For our example, we're hooking up an Asus GeForce 750Ti overclocked edition and a Corsair 430M PSU to a PE4C 2.1a from BPlus. The board connects to a Lenovo X220 via an ExpressCard slot, and the card also connects to an external 22-inch 1080p display via one of the 750Ti's DVI ports.
Previous Page 1 2 3 4 5 6 7 Next Page