How to transform your laptop into a gaming powerhouse with an external graphics card
With a little bit of research and elbow grease, an external graphics setup can transform your laptop into a gaming powerhouse for a fraction of the price of a whole new gaming PC.
First, slip your graphics card into the PCIe slot on the BPlus board.
Next, hook your (not yet powered-on) PSU's 24-pin ATX power supply pins into the BPlus board.
Now connect the 8-pin PCIe connector on the board to the 6-pin power connector on the graphics card.
Finally, insert the ExpressCard cable into the laptop, then slide the opposite side of the cable—the one with the HDMI connection—into the HDMI port labled "X1" on the PCIe adapter. If you're using an external display connect your graphics card directly to it at this point, typically via HDMI or DVI.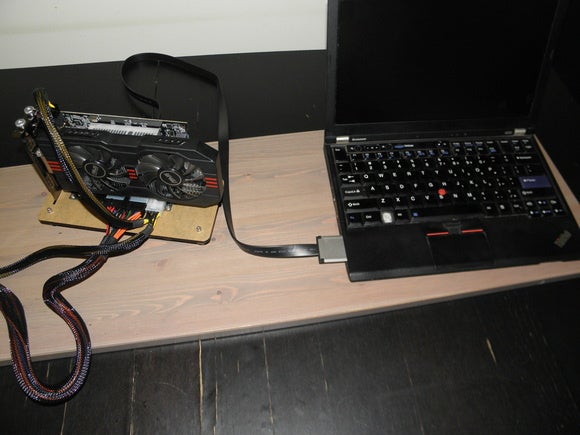 The final result. Credit: Ian Paul
Now it's time for the moment of truth. Flip on your PSU (don't worry if nothing happens yet), power on the external display, and then boot your laptop—or at least, that's the boot order that works for me. Some users report that booting an eGPU setup works only when they hook into the ExpressCard slot after the initial boot, or when Windows has loaded.
Whatever your boot order is, and assuming you had a plug-and-play setup like I did, you should boot into Windows as usual. Your laptop may make a few false starts before it powers on correctly, because you've added new hardware to it. Once you're in Windows, you can check to see if your graphics card is detected by opening the device manager and looking under Display adapters.
If your graphics card is unidentified, manually download and install your card's drivers from AMD or Nvidia. You may then need to reboot the system to get your eGPU setup working properly.
Once that's done it's on to the wonderful world of gaming. Here's a look at some eGPU benchmarks I ran on my own GTX 750 Ti-powered setup to give you a sense of what to expect from a comparable system. Remember that the GTX 750 Ti is an entry-level graphics card, too. More expensive options, including the $150 GeForce GTX 950, can obviously perform much better.
Benchmarks
Our test rig in this case is the aforementioned Lenovo ThinkPad X220, packing a 2.7GHz dual-core Intel "Sandy Bridge" Core i7 2620-M with HyperThreading, 8GB of RAM, a 500GB Samsung 850 EVO SSD, an external 22-inch 1080p display from LG, and Windows 10 Pro 64-bit.
The eGPU is an Asus GeForce GTX 750 Ti OC (2GB DDR5), a Corsair CX430M PSU, and a BPlus PE4c 2.1a PCIe adapter over HDMI to ExpressCard. This adapter is no longer available on the HWTools website (though this close relation is). Total cost at the time of writing: About $215 after rebates. That's far less than a whole new gaming PC would cost.
Previous Page 1 2 3 4 5 6 7 Next Page