How to transform your laptop into a gaming powerhouse with an external graphics card
With a little bit of research and elbow grease, an external graphics setup can transform your laptop into a gaming powerhouse for a fraction of the price of a whole new gaming PC.
These tests are not meant to be representative of the 750 Ti's performance, but of what an average eGPU setup can expect with similar hardware—and to drive home that even an entry level graphics card can offer a huge leap in gaming performance over CPU-integrated graphics. My tests used a PCIe 3.0 graphics card over a PCIe 2.0 connection. Results would likely be higher with the BPlus PE4C 3.0 not only because of the newer PCIe slot, but also because the HDMI-ExpressCard cable that comes with that kit supplies a better signal to the laptop.
That's enough setting of the scene, though. Let's dig in.
After looking at my numbers for Witcher 3: The Wild Hunt most hardcore gamers will likely cringe in horror. I had to dial it down to medium graphics at 720p resolution to get to a consistent 30fps or more and hit console-level quality—and that was with Nvidia Hairworks turned off. Witcher 3 is very graphics intensive, but I noticed serious stuttering and other problems only when the frame rate went below 22fps.
Again, the fact that I can play the game at all, and in full-screen, is a huge step forward over integrated graphics—which couldn't run Witcher 3 whatsoever. A more powerful graphics card would offer higher frame rates.
That Witcher 3 works with my rig is also a promising sign for the release of Star Wars Battlefront and Fallout 4 in the coming weeks.
I am a little nervous about performance with Battlefront, however, considering it's powered by Electronic Arts' Frostbite 3 gaming engine. I've already tried Battlefield 4—another game based on Frostbite 3—and the game ran for only 10 minutes before it failed.
Tip: Buy your games from online retailers with return policies like GOG and Steam, or that offer limited-time trials like EA's Origin. You don't want to be stuck paying $60 for a game that won't work on your system.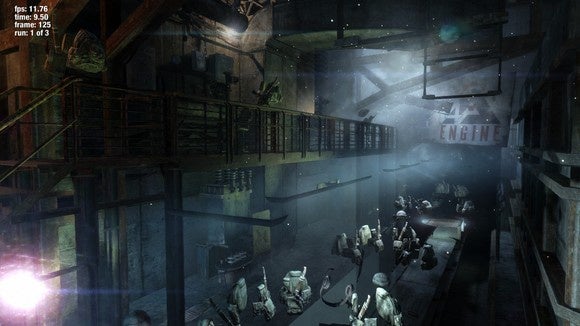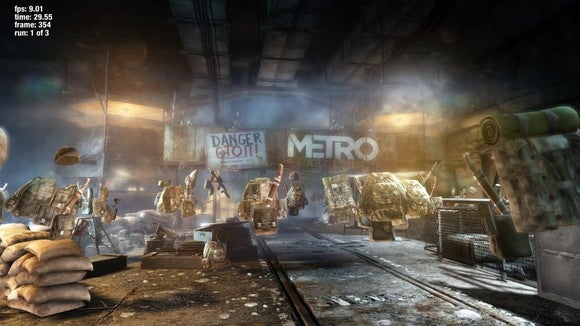 Less intensive games easily clear the 30fps mark, however, including Metro: Last Light Redux, which I've benchmarked. To put the integrated graphics performance in proper perspective, however, I've also included some screenshots of the benchmark running with the eGPU disconnected. All those backpacks floating in midair are supposed to be attached to soldiers, but the integrated graphics simply can't handle them.
Previous Page 1 2 3 4 5 6 7 Next Page