How to transform your laptop into a gaming powerhouse with an external graphics card
With a little bit of research and elbow grease, an external graphics setup can transform your laptop into a gaming powerhouse for a fraction of the price of a whole new gaming PC.
Finally, check out the major frame rate leap that my eGPU brings in the Unigine Heaven 4.0 benchmark.
The future
The fact that you can go from a laptop that barely runs a 1080p movie without stuttering to a rig that plays Witcher 3 is downright amazing. The future, however, is looking even better for one big reason: Thunderbolt 3.
Intel specifically called out eGPU scenarios as a use case for Thunderbolt 3 in a blog post in June. Thunderbolt 3 promises up to 40 gigabit-per-second theoretical speeds, and eGPU enthusiasts like Nando expect it to offer near-desktop performance for eGPU laptops.
Intel wouldn't go quite that far, but the company is confident that Thunderbolt 3 eGPU setups will offer a better experience than we have now.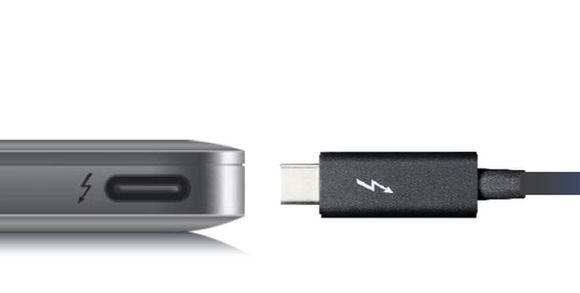 Thunderbolt 3 will be lightning-quick and compatible with USB Type C ports.
"Generally, we expect to see some reduction in performance of a desktop graphics card over Thunderbolt vs. the same card in a desktop PC graphics card slot, because of the lower PCIe bandwidth over Thunderbolt," an Intel spokesperson told us. "But it will still have very good performance, especially compared to the system without the desktop graphics card connected."
Acer, Dell, Asus, and Lenovo have already announced Thunderbolt 3-enabled laptops that we'll hopefully see before 2015 is out.
Intel is also working on improving graphics solutions for Windows 10. "We are working with graphics vendors on Windows 10 solutions that will support hot plug/unplug [add or remove graphics without a reboot], an important user experience required for Thunderbolt devices," an Intel spokesperson said. The company expects initial support from AMD.
If you're in the market for a laptop and thinking about eGPU, you'll definitely want to hold off until we see Windows notebooks packing Thunderbolt 3. But if you're looking to add some pep to the step of a laptop you already own, an eGPU connection over ExpressCard or mPCIe is a great way to beef up your hardware without paying for a whole new gaming rig.