Intel packs Skylake CPU with innovations as PC industry hopes to reboot
"It's the best processor we've ever done," said Intel's Kirk Skaugen. Move over, Broadwell: this is what the PC industry wants you to buy.
Intel executives said the PC industry is on the cusp of an important change, driven by Skylake. Over 300 different PC designs are expected over the next several quarters, all based on the sixth-generation Core technology.
The new PCs' features should lure users away from their older systems—at least, that's the plan. "There's over a billion PCs that are more than three years old now. They're slow to wake, they don't have much battery life, and they can't compete with all these new experiences," Skaugen said of the Skylake PC generation.
Intel designs chips on a "tick-tock" basis: first migrating an existing design to a new process technology, then designing a new chip from the ground up. The 14-nm Skylake chips use the same process as Broadwell, but scale from a tiny 4.5 watts for the Core m to 91 watts for the most powerful Core i7s. Intel claims that the Skylake mobile chips are up to 60 percent faster than the mobile Haswell chips launched in Jan. 2014, yet they consume 60 percent less power, and outperform those chips by 40 percent in graphics.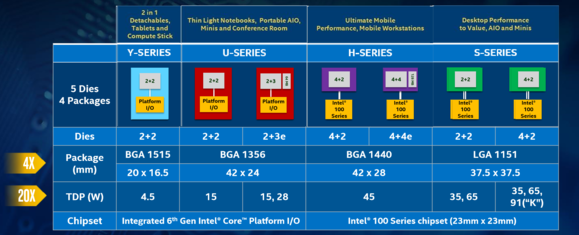 Intel is disclosing some of the details of the Skylake architecture, though not the transistor count. Click on image to enlarge.
"The overall challenge of the design was to have the scalability as well as the improvements," according to Shlomit Weiss, the vice president of the Platform Engineering Group at Intel. Those requirements were met with a mixture of consternation and innovation alike from the engineers Weiss manages, with some claiming it was impossible. "We proved them wrong," she said during a briefing with reporters.
How did Intel succeed? Through an emphasis on cutting out power through design alone, Weiss said. Each little improvement adds up: adding a digital PLL for "major" power savings across the whole of the chip; increasing speed with a lower minimum voltage; and doubling the number of manageable power domains. With Skylake, PC makers are now able to set their own constraints, too: throttling a CPU if a notebook detects that the underside is too hot, or giving a burst of power when needed.
Probably the most interesting power-saving technology in Skylake is something called Speed Shift. Previous generations of Intel chips used the Windows operating systems as a power manager, letting it decide whether it needed to be in an active or low-power state. With Speed Shift, Skylake manages itself. Skylake now takes just a single millisecond to drop into a low-power state, rather than the 30 ms it previously required. The snappy responsiveness lets the PC switch faster from a a low-power state to full performance and back again, Weiss said.
Previous Page 1 2 3 4 5 Next Page