Intel packs Skylake CPU with innovations as PC industry hopes to reboot
"It's the best processor we've ever done," said Intel's Kirk Skaugen. Move over, Broadwell: this is what the PC industry wants you to buy.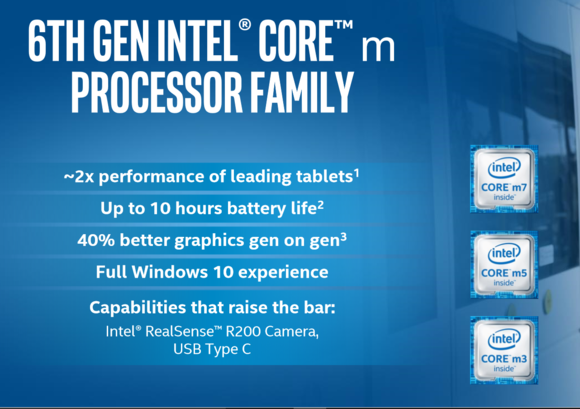 Intel is positioning the Skylake Core M as the engine of the two-in-one PC.
The lowest-power offerings in Intel's Skylake lineup are the Core M chips, now rebranded, inexplicably, as the Core m. These will be the foundation of so-called two-in-one devices, consuming just 4.5 watts. With Skylake, they'll be a bit easier to distinguish, carrying the "good, better, best" branding of the Core i3, i5, and i7. In the first quarter of 2016, Intel will even build its next version of its Compute Stick around one.
That's not to say that the Skylake mobile chips are anemic, power-sipping processors. In fact, Intel has two mobile chips designed for power users: a new Xeon "server" processor, designed for true mobile workstations, and the Core i7-6820HK, an overclockable mobile processor. At IDF, Intel executives said we'd be seeing laptops with an easy-peasy, one-touch overclocking mode by way of a 'turbo' button. Let's see when and if they happen.
Graphics improvements in mobile, desktop
Skylake also includes a step up in the graphics department, pairing the Intel HD Graphics 515, 520, and 530 cores with their respective processors: the Y-Series, the U-Series, and the H-Series chips.
Intel is claiming that Skylake's graphics performance could be up to 40 percent faster than Broadwell measured via the Sky Diver benchmark, though that's based on a comparison between the Intel Graphics HD 5300 core found in the prior Broadwell based Core M-5Y71, and the Intel HD Graphics 515 core built into the Skylake Core m-6Y75. Intel is also using the same two chips as a basis for saying the HD Graphics 500 series will improve 4K content creation up to 20 percent faster and ensure 10 hours of battery life when playing back full HD video.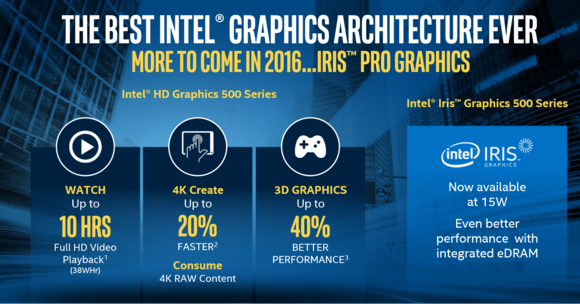 Intel is making aggressive claims about the quality of the graphics core inside the new Skylake chips, though reading the fine print reveals they're a bit overblown.
All of the 5-series graphics cores will support a display across three 4K monitors, a substantial increase in graphics horsepower. Intel also made substantial improvements in ultra low power 4K video playback and related scaler and conversion engines, Intel's Shenoy said.
In the future, Intel plans to add a version of its higher-performance Iris Graphics technology to some of its lower-power mobile offerings, together with most likely either a 32MB or 64MB dedicated eDRAM frame buffer. Although they won't offer the performance of a new GPU card, you'll still see a graphics boost.
Desktops will require a redesign
As with the majority of Intel's "tock" processor redesigns, Intel has paired a new LGA 1151 socket with the new Z170 chipset, and mainstream support for DDR4 memory. While older DDR3 memory modules are supported, they're specifically low-voltage DDR3L modules, implying they'll be reserved for specialty low-power applications. In other words, while you might be able to jury-rig a build of an older hard drive and graphics card, your motherboard, CPU, and memory will have to be repurchased.
Previous Page 1 2 3 4 5 Next Page