Intel packs Skylake CPU with innovations as PC industry hopes to reboot
"It's the best processor we've ever done," said Intel's Kirk Skaugen. Move over, Broadwell: this is what the PC industry wants you to buy.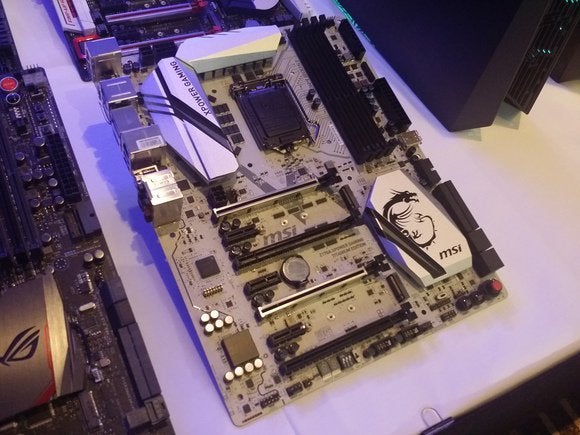 A MSI Z170A XPower Gaming Titanium Edition motherboard, one of several that will support the new Skylake chips. Credit: Mark Hachman
Naturally, Intel—as well as the PC industry—has absolutely no problem with that. Over the last five years, PCs powered by Intel chips have performed 2.5 times faster, with a thirtyfold increase in graphics and a threefold improvement in battery life, Skaugen said.
"The most beautiful and powerful systems are coming to market now, and our belief is that there's never been a more exciting time to buy a PC," Skaugen said.
Even though Intel is formally launching the Skylake chips today, we already know what sort of performance the chip brings, via reviews of the Core i7-6600K and Core i7-6700K. PCWorld's Gordon Mah Ung already dove deep into the guts of the Z170 chipset, its 20 PCIe Gen 3 lanes, and the corresponding DMI 3.0. As Ung notes, the upshot is that you can run your graphics card at full bandwidth while still having a super-fast PCIe or M.2 SSD, or multiple SATA SSDs along with your your 10Gbps USB 3.1 devices, without sacrificing performance, as you would with older chipsets.
Intel's Skylake CPU offers maybe 5 to 10 percent more performance than a Haswell CPU that runs at higher clock speeds, and it's noticeably faster in graphics workloads as well. But if you want to, you can push it further: According to Gregory Bryant, Intel's corporate vice president and general manager of desktop platforms, the 4.0-GHz i7-6700K is as "stable as a rock" when overclocked to 4.7 GHz.
With just performance as a selling point, it might be hard to justify an investment in Skylake. That's why Intel surrounded the chip with a whole host of platform improvements.
WiDi and Thunderbolt and True Key, oh my!
Intel's vision of a "wire-free PC" dates back several years. Intel's vision is that your power cord will be replaced by a Rezence wireless charging mat, your display cable by WiDi or WiGig, and your ethernet cable by wireless networking. With Skylake, only the former is missing. Intel showed off wireless charging at its IDF conference, but the technology still needs to be built into thousands of coffee bars, desks, and even tray tables to make it successful. If it's currently being built into Skylake-based laptops, Intel isn't saying.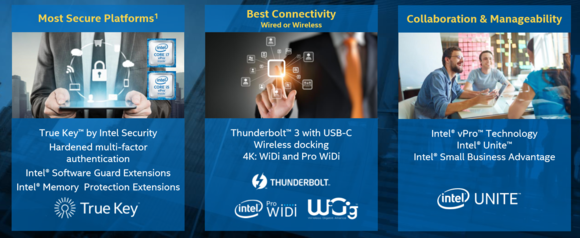 Some of the PC-level improvements Intel and its partners are building around the Skylake chips. Click on image to enlarge.
Some of these technologies you should be familiar with: Thunderbolt 3.0, the 40Gbps connector that integrates into the USB-C physical form factor and provides charging, to boot; Wireless Display (WiDi), along with the upcoming managed WiDi Pro; WiGig, similar to WiDi but for your desk; and what Intel calls Intel Unite, a simple videoconferencing application that taps into the power of Intel's chips. Most users are also familiar with Intel's RealSense cameras, which are being built into laptops as the foundation of Windows Hello.
Previous Page 1 2 3 4 5 Next Page