Intel Skylake: All the speeds, feeds, and prices, and which one is right for you
Take a deep dive into Skylake's 48 new CPUs, from energy-sipping mobile versions to beefy overclockers.
Consumers shouldn't have to worry about Intel's Stable Image Platform (SIPP) or Small Business Advantage (SBA) technologies. Ditto for Intel vPro. You might want to consider buying a chip with Intel TXT technology built in, however; that's the Trusted eXecution Environment which seems to be at the heart of new Windows technologies such as Windows Hello and Passport. Virtually all of the new Skylake chips include virtualization technology—a geeky way to test out a future version of Windows 10, but essential if you want to run Android apps on your PC.
Note: Not everything Intel is announcing today will be immediately available. (If the price is listed as "To Be Determined," (TBD) Intel will ship it at a later date -- either during the fourth quarter or in early 2016.)
High-end desktops: the S series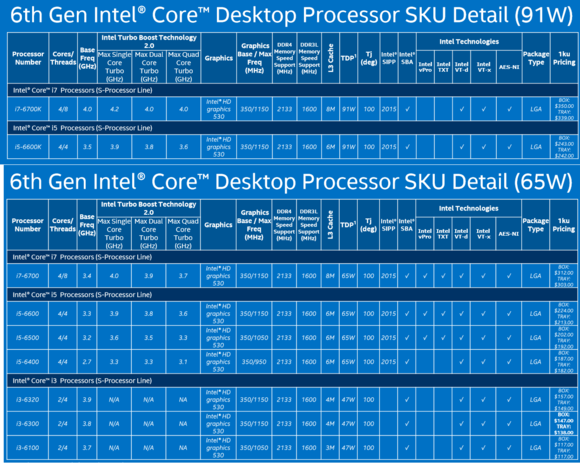 Intel's high-end Skylake desktop lineup. Click on image to enlarge
While Intel hasn't announced any of its high-end "Extreme Edition" parts yet, the first thing that should strike you is the overall reduction in power, although it may not seem apparent initially.
An Intel 4GHz Core i7-4790K Haswell CPU, for example, is rated to dissipate 88 watts of heat. Its direct replacement is the 4GHz Core i7-6700K, which has a "TDP" rating of 91 watts. Both of these CPUs are designed for enthusiasts who will overclock.
The better comparison would be the 3.6GHz Core i7-4790 chip that doesn't overclock. Even with its lower clock speeds, it maintains the same TDP rating of 84 watts. For Skylake, the 3.4GHz Core i7-6700 that can't be overclocked has a TDP rating of 65 watts. To be fair to Haswell, there was a Core i7-4790S version with the same TDP rating as its Skylake counterpart, but the clocks drop even lower, to 3.2GHz.
Even though Skylake represents a processor redesign and not a process shrink—where most of the power reduction takes place—Skylake should consume less power than a similar Haswell chip.
The other thing to notice is that, at least for now, all of the desktop chips that Intel has announced have at most four cores and eight threads. Intel's Core i7-5820K and higher "Haswell-E" chips that use larger sockets and don't contain integrated graphics all contain 6 cores and 12 threads. It's not clear whether Intel plans to add similar parts in the future, or leave a 4-core/8-thread as the high end in the smaller socket.
What does seem clear, though, is that are only single Core i5 and Core i7 unlocked "K" versions of the Skylake parts; it's virtually assured that more will be added over time.
Previous Page 1 2 3 4 5 Next Page