Intel Skylake: All the speeds, feeds, and prices, and which one is right for you
Take a deep dive into Skylake's 48 new CPUs, from energy-sipping mobile versions to beefy overclockers.
From a graphics perspective, the desktop chips are virtually identical: They all use the new Intel HD Graphics 530 core. Just be aware that some of the slower chips—the i5-6400, specifically—have their graphics cores clocked lower under load. Still to come are Intel's Skylake chips using embedded DRAM, which should greatly increase graphics performance.
The desktop Pentium chips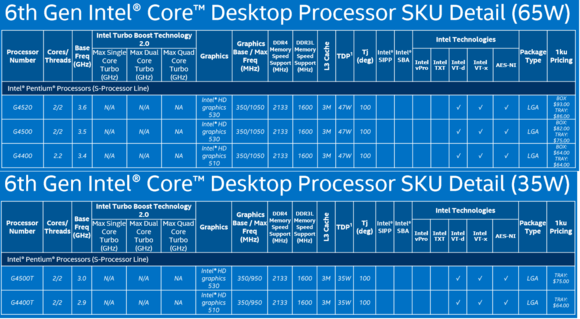 Intel resuscitated the Pentium brand awhile back, a seemingly odd throwback to the days not too long past when gamers had to tweak HIMEM.SYS and other system files to allow their PCs to work. Today, an Intel Pentium is synonymous with low cost. Intel will also launch Celeron versions of Skylake in the future, at an even cheaper price.
You can see that buying a Pentium isn't that bad of a deal for basic computing. Here's the interesting thing, though: Because there's no Turbo Boost self-overclocking mode, the Pentiums are actually clocked faster than some of their Core cousins. Couple that with a pared-down cache to save cost, and the result is a cheap chip that's going to run at full speed fairly aggressively. The only caveat is the lack of Hyper-Threading, which is Intel's virtual CPU technology that makes two CPU cores act like four. Depending on what you do though, you may not feel it.
And no, cheap gamers, we asked: Intel said none of the new Skylake Pentiums support overclocking, like it did with the "Anniversary Edition" Pentium G3258.
Intel's mobile Skylakes include Xeon, overclocking
Intel can't shave as much power in the mobile space, where the maximum thermal power of a Broadwell chip, 47 watts, is nearly identical to the 45 watts that a mobile Skylake processor consumes. Here, though, Intel is focusing on the time in which the chip needs to be powered up. Intel's Skylake-specific Speed Shift feature reduces the time in which a chip needs to shift from a high-power to a low-power sleep state to as little as 1ms, versus 30ms or so before. This sounds like a tiny detail, but when the chip is constantly shifting from a full-power "busy" state to a sleep state, it's a big deal.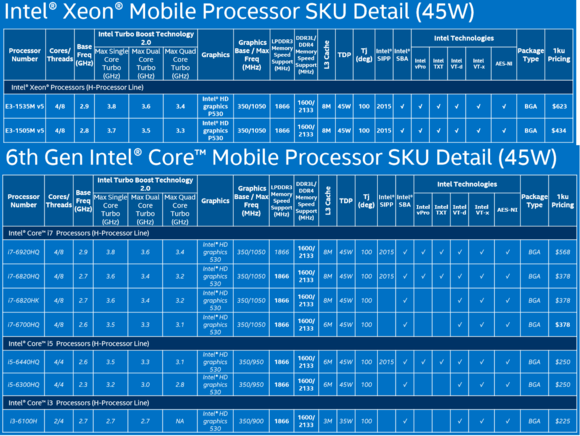 Intel's mobile Skylake chips include the intriguing mobile Xeon and an overclockable Core i7.
One of the oddities of the new mobile Skylake line is the new mobile Xeon "server" processor, designed for true mobile workstations. Intel has already begun shipping the chip—at the SigGRAPH show in August, Lenovo announced the P50 and P70 workstations, including the chip as well as peripheral enhancements like Thunderbolt 3.0, based on the new Intel Alpine Ridge controller.
Previous Page 1 2 3 4 5 Next Page