Intel Skylake: All the speeds, feeds, and prices, and which one is right for you
Take a deep dive into Skylake's 48 new CPUs, from energy-sipping mobile versions to beefy overclockers.
Gamers, though, may want to think about the Core i7-6820HK. Why? Because it carries that magical "K" suffix, meaning that it's overclockable. Yes, an overclockable mobile chip! At IDF, Intel executives said we'd be seeing laptops with an easy-peasy, one-touch overclocking mode by way of a 'turbo' button. It's possible that some might be shown off at the IFA show this week. We'll keep our eyes out.
In general, though, Intel's mobile chips show a definite progression down the performance curve: The more expensive Core i7s boast larger cache, robust Turbo Modes, and a faster maximum graphics clock speed. All of these factors decline as the processors step down into the Core i5 and Core i3 range.


The 28W Skylake mobile chips add a new lower power mode that the 45W chips lack.
Be aware that Intel also has two other lineups of Core i7/i5/i3 for ultrabook PCs consuming 28 and 15 watts. In general, you should expect lower performance but longer battery life with these chips. Because laptops in general are getting thinner by the day, it might not be totally clear whether you're buying an 'ultrabook' or just a thin laptop.
These lower-power chips differ from the more robust 45-watt variants in two key ways: The number of cores are significantly reduced. Also, Intel has included what appears to be a down-clocked mode, for activities like simply displaying this article, for example, that require less exertion from a chip.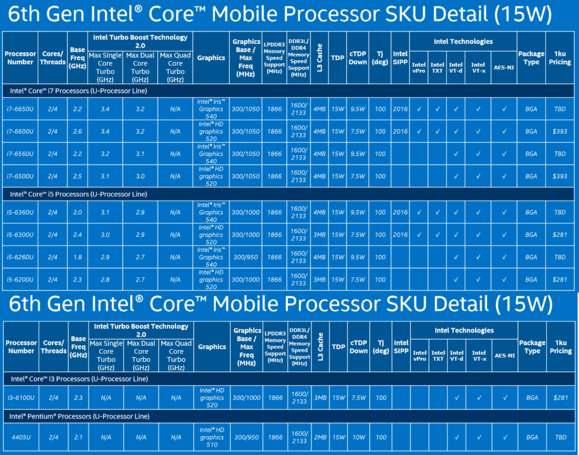 All of the 15W Skylake variants prove that Intel certainly believes in the ultrabook market.
You'll also notice two graphics variations: a slightly underclocked version of the HD Graphics included on the 45-watt chips, as well as an entirely different Iris Graphics architecture. The Iris Graphics brand has generally been used for Intel's premium graphics product, which means the lower-power products may actually outperform the chips with more cores. (But note the "TBD" designation in the pricing column. Iris Graphics is coming later, and Intel's not saying when.)
If you're wondering why, it's likely because higher-wattage quad-cores are almost always coupled with discrete graphics for more performance. The lower-power U-series chips almost always go it alone with integrated graphics. Still to come will be the Iris Pro version, using its own dedicated 64MB or 128MB eDRAM frame buffer.
One has to wonder whether, over time, Intel might add a 4-core/8-thread version of the 28W Core i7 chip, as a middle ground for gamers. Eventually, the PCI-SIG hopes to mainstream a technology called Oculink, which lets gamers could tote around a low-power laptop by day and connect it to an external GPU for gaming after hours.
Previous Page 1 2 3 4 5 Next Page