Intel Skylake: All the speeds, feeds, and prices, and which one is right for you
Take a deep dive into Skylake's 48 new CPUs, from energy-sipping mobile versions to beefy overclockers.
The Core M (sorry, Core m) now has its own naming scheme
So-called two-in-one or hybrid devices occupy their own little niche: Sometimes they're a tablet, and sometimes they're a notebook. Now, with Intel's new Skylake Core m chips, you'll have a better sense of what's what.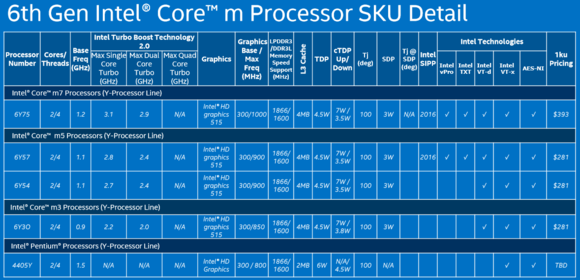 Just 4.5 watts! That's impressive.
What surprises me most, however, is the price Intel's charging—almost $300 a pop in most cases. That means the Skylake Core m definitely won't be appearing in devices that will compete with Android tablets. For the price of a Core m, you'd be able to buy a decent Android tablet all by itself.
The Core m, however, features both upclocked and downclocked modes, allowing the tablet to rev up when needed, then clock down when not. (The Core m3 can also enter Turbo Mode, unlike the Core i3.)
While the Intel HD Graphics 515 chip is part of the Skylake family, it's pretty bare-bones in terms of performance. Still, the selling point is power: Core m chips run at just 4.5 watts, and Intel believes you'll get up to ten hours of battery life with a Core m tablet.
Know your chips to make the best purchase
If you've read this far, you should have a better idea of what distinguishes which Intel Skylake chip from another. It's useful information, because eventually, you're going to see an ad or a sign advertising a "Core i7" computer on heavy discount, and you're going to be tempted. You should be able to figure out whether the vendor is selling an older Broadwell chip, or perhaps a low-end Core i3 that isn't what you'll want.
Remember, too, that Intel's Skylake is more than just a chip—it's also a collection of technologies designed to revamp the PC. To learn more about those, see our overview of Intel's Skylake.
Previous Page 1 2 3 4 5