iPhone 8 rumors: Apple has ordered 70 million bendable OLED displays from Samsung
Rumors are already swirling about the "revolutionary" 2017 iPhone. Here's all the latest.
Kuo is counting on it. According to supply chain rumors, more iPhones are expected to be produced in the latter half of 2017 than ever before. Suppliers are reportedly getting ready to churn out 120-150 million iPhones, beating out the 110-120 million iPhone 6 models produced in late 2014.
Plausible? Yes. The addition of wireless charging was one of the first reliable rumors we heard about the forthcoming iPhone 8, and we'll undoubtedly keep hearing about it until the device is released next year. If Apple is really committed to wireless charging, then switching to an all-glass casing also makes sense. It explains why Apple would choose to switch to glass in the first place. While the smaller iPhones might lack OLED due to production constraints, putting wireless charging in each model would go a long way toward making the next iPhone a must-buy.
Folds like a book?
The rumor: You may be able to bend the next iPhone, similar to how you fold to close a book. Apple has just been granted a patent for a book-like iPhone design that used an OLED display that can fold in half.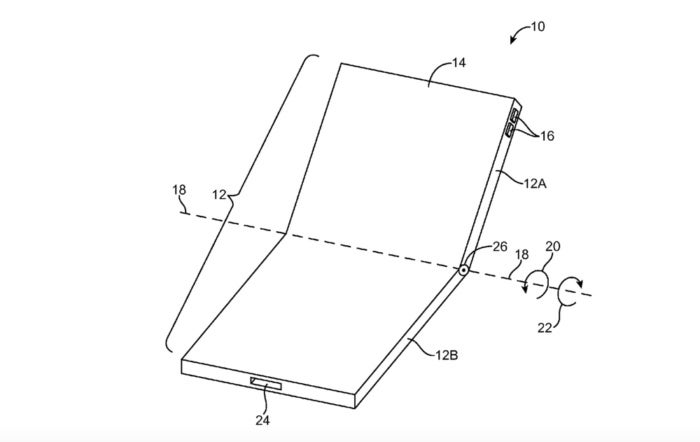 USPTO
Plausible? Just because Apple has the patent for this, doesn't necessarily mean that it will become a real product. Besides, Apple is already running into issues with OLED display supply, so there may not be enough time or resources to incorporate a bendable, foldable display on the iPhone 8.
3 new models?
The rumor: Apple will launch three models of the iPhone 8 in 2017, according to a new report from KGI Securities analysts. One model will sport a 5.5-inch OLED screen and a dual camera. One will have a 5.5-inch LCD screen, also with a dual camera. The third will be a 4.7-inch iPhone with an LCD screen and a single camera system, much like the current iPhone 7 model.
Plausible? KGI Securities is usually spot-on when it comes to iPhone hardware predictions, and for a while these supply chain analysts have been predicting that Apple will switch to OLED displays in 2017. Apple has already been using OLED displays on the Apple Watch and the MacBook Pro's Touch Bar, so using this type of display on the iPhone seems like a logical next step. Previously, Bloomberg reported that Apple is in talks with Sharp to be its OLED display supplier.
OLED offers a lot of benefits over LCD. Besides being more responsive, OLED gives Apple the option to create a bezel-less iPhone with a curved or bendable display, which would certainly boost the iPhone 8's wow-factor. This time around, the iPhone 8 is rumored to be "revolutionary."
Previous Page 1 2 3 4 5 6 7 8 9 Next Page