Jawbone Big Jambox review: Bigger, better, jammier than the original
Striking design, excellent musical performance, and a strong value all the way around.
Listening to some of my go-to tunes for speaker evaluations, I was impressed with the Big Jambox's clarity, definition, and bass response. The riding hi-hat on Steely Dan's "Jack of Speed," from the band's Two Against Nature CD (which I ripped and encoded in FLAC for playback on my Android smartphone), I was impressed with the speaker's ability to render nice, fat bass lines without muting higher frequencies such as drummer's snare-drum and hi-hat strikes. The speaker also did a great job with stereo separation, which can be challenging in small cabinets such as this.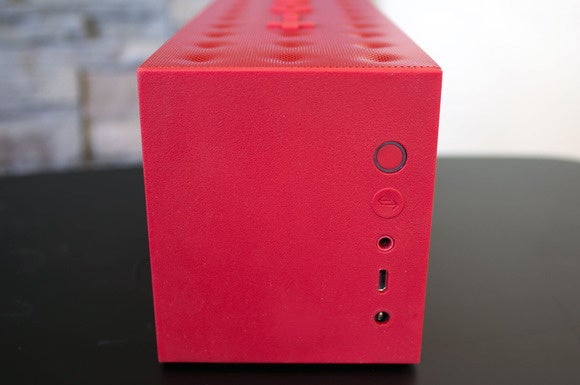 The Big Jambox is as light on features as Creative's Sound Blaster Roar 2 is heavy. There's an aux input and a micro-USB port for firmware updates. That's it. Credit: Michael Brown
Creative's Sound Blaster Roar 2 delivers a lot more bang for the buck than the Big Jambox, but they're both very strong speakers. In fact, I liked Jawbone's offering just a little bit better when it came to filling a room with sound. The Big Jawbone's industrial design is also much more appealing, and it's easier to pick up and move from one room to another. As contrary as it sounds, you wouldn't be paying too much for the Big Jawbone, even though the Roar 2 costs less and delivers more features. Both speakers are better values than JBL's massive Xtreme.